Post by LUKAS IVERSEN on Jun 3, 2014 13:19:31 GMT -5
`LUKAS AKSEL IVERSEN!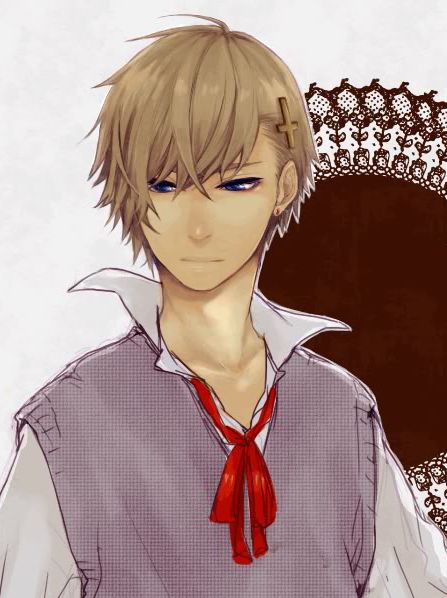 `WELCOME TO YOUR LIFE, THERE'S NO TURNING BACK!

FULL NAME Lukas Aksel Iversen
NICKNAMES Luka, Luke, Luk
AGE 16
GENDER Male
ETHNICITY Norwegian
TEACHER OR STUDENT Student
GRADE 6th Year
SPECIAL ABILITY(s)


EMPATHY Lukas is able to sense the emotions of those around him and adopt them as his own. He can't really control this ability, as it works almost like a sixth sense, but he has learned how to direct his attention to something else so these feelings don't become overwhelming and disturb him from living his everyday life.

The easiest way to describe the way he feels the emotions to another human being would be to say it's almost like hearing. The stronger the emotion, the "louder" it is, though distance also matters. A weaker or more neutral emotion can appear stronger than for example anger, if the person is standing right next to Lukas and the one feeling angry is further away. Different emotions also cause different reactions. Neutral and positive feelings are more harmonious and calming, while negative feelings can cause uneasiness or irritation. It takes quite a bit of concentration for Lukas to separate the feelings of others from his own, so he often ends up mirroring these feelings to at least some degree. This is why big crowds usually make Lukas uncomfortable and restless; it's like being caught in a room full of honking car horns, violins orchestras, crying children and ocean waves. He's unable to neither focus on one feeling only or feel only one emotion and it's incredibly confusing.  

CLAIRAUDIENCE If someone's emotions are particularly strong Lukas can catch fragments of their memories or thoughts related to that emotion, though whenever this happens he tends to get headaches. These glimpses are usually hazy at best, but he has gotten better at reading them in his years in the academy. He cannot read minds, but being quick-witted, Lukas is often able put those individual fragments together to form a bigger picture.

LIE DETECTION Because of his ability to read emotions, he almost always knows if a person is lying. Only a pathological liar who feels no nervousness or remorse about lying whatsoever might be able to fool him.


HOW DID THEY FIGURE OUT?

Lukas has had his powers for as long as he remembers, though some of his abilities he has only become aware of later on his life as he's gained more control over his powers.

Even as a kid, he was highly sensitive to other people's feelings him to the point he would adopt those feelings himself. If his parents were having a fight downstairs he would find himself angry and take it out on his toys, and he could always tell when his parents were laughing inside while trying to scold him and react accordingly. To everyone around him, he just seemed like a normal, if slightly problematic, child.

It wasn't until Lukas first entered pre-school that the real problems started. His powers had been growing stronger as he got older, and being thrown into a new environment with lots of other kids and their unguarded emotions really hit him hard. He suddenly found himself being bombarded with countless emotions at once, and with them words and flashes of memories started to creep in. He couldn't tell what was going on, and it scared him and hurt his head and quickly made him want to stop going to pre-school altogether. His teachers thought he was just terribly shy and suffered from social anxiety, but at this point his parents started wondering if there was something more behind his behavior.Their thoughts were confirmed when despite various visits to a child therapist his symptoms just got worse.

By the time Lukas turned 9 years old, his inability to control his powers had gotten so bad he would shut himself in his room for days, refusing to go to school or out to play, and just sit in the dark while trying to push his parents fear and despair and helplessness out of his head. His parents had tried to teach him to control his abilities once they'd realized what they were, but neither of them was quite familiar with the power of empathy and thus their efforts did little to help the situation.

It was only when his parents decided to send him over to the US to Asher Academy as their last resort that his life started to change for the better. Sure, he was scared and didn't want to be left alone in a strange place with a strange language and strange kids with just as many emotions as the kids at home, but being finally able to receive proper training in controlling his abilities quickly made his life easier in so many ways.

`EVEN WHILE WE SLEEP. WE WILL FIND YOU,

LUKAS LIKES

CUTE THINGS Animals, plushies, even little kids, The Norwegian has a soft spot for all things cute and cuddly. His favorites are bunnies, though, and he even owns a pink stuffed one he got for his 4th birthday. It's old and worn but Lukas loves it to death.

SWEETS If Lukas could sustain himself on sugar alone he definitely would. It doesn't matter what kind of dessert,cake or confectionery it is, if it's sweet Lukas will most likely love it. Oddly enough, despite his ridiculous sweet tooth he has never struggled with his weight or suffered from cavities.

NATURE Lukas has learned to like the tropic in its own way, but the fjords and mountains of his homeland will always have a special place in his heart. To him, nothing can compare to the beauty of the nature, neither can anything else offer him the same feeling of being completely at ease.

THE SEA Born and raised in Trondheim, the sea has always been part of Lukas' life. The summers of his childhood were spent swimming and sailing, and whenever he needed an escape the ancient shores were always welcoming. Lukas finds comfort in the sound of waves and the seemingly infinite planes of steely waters, and the freedom and permanence they represent.

STABILITY Having difficulties of adapting to change, stability and routines are important for Lukas to feel comfortable. It makes him feel more in control of his life. He doesn't see any reason to switch things up just for the sake of variety. Why fix something if it isn't broken?

COFFEE A total lifesaver for Lukas. He couldn't probably get out of bed at all if it weren't for this gift from the gods. He absolutely loves coffee and could drink a dozen cups a day if it didn't make him all shaky and nervous and prone to losing control of his abilities. Oh, and he likes it black with no sugar. It's the only thing he thinks sugar makes taste worse.

READING One of Lukas' favorite passtimes. He enjoys reading almost as much as sleeping, and he almost always is in the middle of some book. His favorite books are fiction, but he also likes reading about Norwegian and Scandinavian mythology and history.



LUKAS DISLIKES

HIS POWERS He doesn't completely hate what he can do, as he has to admit it's sometimes quite useful to be able to read people the way he does. He does however think that his life would be a lot easier if he didn't have any special abilities. He also dislikes his own inability to completely control his own abilities, as he sees this as a sign of weakness and lack of skill.

CROWDS This has everything to do with his powers; though he has gotten better at tuning out of the emotions all around him, in places where there are lots of people it sometimes simply gets too much for him to handle and he loses control again.

NOISE Be it a chatter of people, a construction site or just music blasting, Lukas hates all kinds of loud noises. It's not only that he associates loud noises with lots of people, but they also tend to hurt his ears and give him headaches. He gets enough noise in his head already, he doesn't need more on the outside as well.

IDIOCY Lukas abhors stupid people. Not as much those who simply lack intellect as the ones who don't even bother trying to educate themselves. Since he takes life and studying so seriously himself, it baffles and annoys him that some would rather dedicate their time to just being loud, bothering other people and partying hard with no intentions of making plans or trying to become something in the future.

WASTED EFFORT Unlike those people Lukas hates, he hardly ever does anything without some kind of motive. Since he always works so hard to meet his goals, when things go awry it irritates him to no end because he could've used the time on another, more fruitful project.

MORNINGS Lukas is horrible company in the mornings. Finding himself most alert in the evenings, he can often stay up the better part of the night, enjoying the calmness and the silence. However, this means he has a hard time getting up in the morning, and even then he only manages to do so with the help of vast amounts of bitter coffee. Anyone planning to rouse him from his sleep prematurely had better have a very good reason to do so and bring an offering of steaming coffee.

DOGS Lukas is definitely more of a cat person. To him dogs are dumb, loud, messy, and overly eager creatures that are way too much trouble to deal with. His dislike might also be due to an incident where he got bitten by a neighbors dog when he was just a kid. He still thinks puppies are cute, though.

PUBLIC TRANSPORT Full beyond capacity and late more often than not, Lukas only takes the subway or a bus when it absolutely can't be avoided. Most days, the Norwegian either walks or rides a bike. It's good exercise and also saves him money and his own nerves.


FEARS

LETTING HIMSELF DOWN Lukas is honestly worried about not meeting the goals he has set for himself. He is pretty happy with his current situation, but after he graduates he wants to return to Norway, find a job that he actually likes, and spend his days in peace and comfort. He doesn't want to wake up one day and find himself still stuck in the same place with same people and still struggling with the same problems.

LOSING CONTROL In other words reverting back to the way he was before the academy; unable to stop the overflow of emotions flooding his mind and having to shut himself in his room for days on end.

ENCLOSED SPACES Lukas is somewhat claustrophobic. He hates all kinds of restraints, physical or mental, and will start to panic if he finds himself trapped somewhere he can't get out of by himself. He sometimes starts to feel this way even in his own room if he has spent too much time inside.

SOMETHING HAPPENING TO EIRIK Lukas' brother is without question the most important thing to him in the world and he's extremely protective of him. He's the only one he has always been comfortable enough to confide in, and looking after him at the academy seems to give him a sense of purpose. But he cannot keep an eye on his brother at all times and so he's worried something might happen to him when he's not there to help him. He's also terrified that someday he might not be able to pull Eirik from his dream state, even though so far he has always been successful. 


QUIRKS

SAVING MONEY Lukas is careful when it comes to spending money. He comes from a reasonably wealthy family, but his parents always madea point to remind him of the importance of saving. This is why he hardly ever buys anything on a whim, and considers each even slightly bigger purchase very carefully. He makes sure to put some money aside each month, so despite his young age he already has quite a bit of savings.

SLEEPING Lukas likes to take naps during the day, and it's not uncommon to find him asleep in some corner of the library, or outside in the shadow of a tree, or on the school's rooftop, or pretty much any place that's relatively quiet.

VIOLIN As a child, before his powers started to hinder his social life, Lukas took violin lessons. He never got spectacular at it, neither was he particularly interested in learning, but now that it's been some years he finds himself wanting to pick it up again.

SUPERSTITION Though otherwise quite rational, Lukas is fairly superstitious. He's not afraid of black cats or breaking mirrors, but he has always been deeply interested in old stories, mythology, and magic, and believes that there must be at least some truth to the tales.

THE HAIRPIN Lukas' wardrobe is fairly simple and monotonic and contains little accessories. The only exception is the cross-shaped pin he wears everyday to keep his slightly too long hair out of his eyes. No one knows its origins, but it seems to carry some level of significance to the Norwegian.


OVERALL PERSONALITY

The first thing you would notice about Lukas is how little of himself he actually shows. Where other people normally smile, laugh, and cry, Lukas only ever seems to wear an expression of cool disinterest, making it easy to just assume he's constantly bored or annoyed. Which would of course be incorrect. The Norwegian has just as wide a variety of emotions as anyone else, he has merely honed his ability to keep them in check to perfection. Having been bombarded with others' emotions his whole live, he has become extremely protective over his own. And though he does consciously guard his expressions, his eyes have always been dull rather than expressive, so even when he does allow some little emotion shine through it's usually so subtle it's easy to miss unless you know to look for it.

Saying Lukas' appearance didn't match his inner personality at all would be wrong though, as a lot of the time he IS bored or indifferent to the things going on around him. Despite the nature of his powers he's not a very empathic person. The constant flow of emotions has left him kind of cynical and simply too tired to care, the importance of those emotions to each individual almost forgotten to him. To him it's just a mass of love, hate, excitement and confusion blended together, rather than a group of living human beings that he should be able to care about. And often lacking the patience to deal with those people he finds it much easier to keep to himself whenever possible.

Being by himself comes quite naturally to Lukas. He prefers things calm, quiet and peaceful, without the constant need to enlighten on his thoughts to curious individuals or take part in conversations he doesn't have any interest in just for the sake of public appearances. Every now and then, however, he finds himself seeking other people's company and at times even enjoying it. During these moments, when he gets to come in contact with people on his own terms, it's easiest to get a glimpse at what he's like underneath the cool and collected outerior. By any means he's not the easiest person to be around, but he is a good listener and has his own sense of (usually sarcastic) humor that can be learned to appreciate. And should he make an exception and let somebody close, that person would find an extremely loyal and surprisingly gentle human being hiding under the icy surface.

Lukas is a very independent individual, one might even say fiercely so, and that is something he won't give up no matter what. He hates relying on others or having to put his faith in someone who has yet to prove themself trustworthy. That's also why committing to relationships frightens him, be their platonic or romantic. Lukas only ever sticks with one person for a few weeks if that, after that he will try to push them away. He feels spending too much time around the same person makes him more sensitive and tuned in to their emotions, making it hard for him to clearly tell which emotions are his own and which are not and it scares him. The only exception in this is his little brother.

Lukas doesn't think he'd really have time for relationships anyway. He tends to take things very seriously and is entirely focused on living his life in the exact way he has planned it, even if that plan is as dull as they come. The Norwegian looks at his current life as a task that has to simply be completed to get the reward waiting at the end, rather than a journey full of possibilities. He gets irritated and sulky when something or someone interferes with his plans, rather than trying to adjust and make the most of the situation. Because of his lack of spontaneity and inability to compromise he often misses out on both big and small pleasures and opportunities the world has to offer, but Lukas is too stuck in his ways to even realize this. He'd rather look to the future than dwell on the past, only in his haste to get forward he easily forgets about today as well.





`ACTING ON YOUR BEST BEHAVIOR, TURN YOUR BACK ON MOTHER NATURE!
The good thing about sitting in the corner was that he could easily see the entire cafe without actually having to look around all that much. So when he next glanced up from his book to notice the tall stranger had moved from the counter it only too a slight tilt of his head to find him again, now sitting down at a table closer to the entrance. It seemed the man had claimed himself a table before going to place his order, and Lukas briefly wondered how he'd missed him coming in earlier while he studied his face now that he finally had a decent view.

If Lukas had to guess he would've said he was maybe in his late twenties or early thirties, and either Scandinavian or German. And just like he'd somehow known, he wasn't hard on the eyes in the slightest, even if his sharp features gave him a somewhat angry look. Lukas might have thought the man was just having a bad day if it wasn't for the way he arranged the papers on his table and shifted in his seat when the waitress came to his table. There was a kind of awkwardness to him, almost as if he was a little lost. And it just made him all the more interesting.

All of the sudden the man turned his face and looked straight at him. Caught in the act, Lukas didn't see the point pretending that he hadn't been staring and kept looking at him, lowering his book and leaning his chin against the back of his hand. A small smirk tugged at the corner of his mouth when the stern looking blonde finally broke their stareoff, flushing and embarrassed in an adorable way that you certainly wouldn't expect from such a man.

That was all the incentive he needed. Tucking his book back into his bag and throwing his blazer over his shoulders, Lukas got up and started walking towards the door as if he was leaving, slowing down when he neared the man's table and peeking at that pile of pamphlets he'd been fussing with earlier. Rental apartments, how perfectly convenient. He stopped by the table, eyes still on the advertisements rather than the man himself, and placed his hand on top of the small stack. "Looking for a place to stay?"
`EVERYBODY WANTS TO RULE THE WORLD!

YOUR NAME/NICKNAME Lauha, Luna, Finnor. Whatever floats your boat.
AGE 23

-----------------------------------
I am Lukas Iversen and I am a SIDEKICK!