Post by Deleted on May 31, 2014 10:14:29 GMT -5
`EMMA ANNETTE ZUIDERDUIN!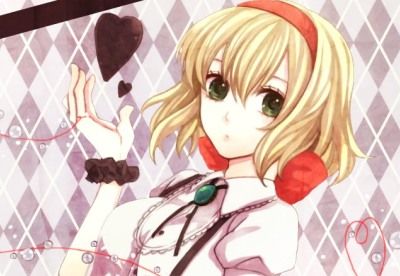 `WELCOME TO YOUR LIFE, THERE'S NO TURNING BACK!

FULL NAME Emma Annette Zuiderduin
NICKNAMES Emmy, Em, Ems, Waffle girl, Blondie, Kitty-Cat, Pretty Kitty, Kitten, etc.
AGE 15
GENDER Female
ETHNICITY Belgian
TEACHER OR STUDENT Student
GRADE Years 5
SPECIAL ABILITY(s)
╰☆╮Feline Abilities: Emma Zuiderduin has an incredibly strange power, and posses cat-like abilities. She is incredibly nimble and agile, and is able to jump accurately with extreme precision, and always, no matter from what height or place, will land on her feat without a single scratch. Emma also posses incredibly speed and stealth, and can easily out-run most people, or slink around almost completely unnoticed. Also liked to the more physical side of her abilities; she has strangely strong fingernails, which can act as claws and leave a pretty good scratch if she lashes out at you. She even seems posses the "nine lives" trait, or just incredibly good luck, as there have been two times in which she would have been very seriously harmed or even killed had she been normal. Fortunately, both those times she had emerged without a scratch. However, this probably means she only has seven out of nine lives left now...

Her senses are highly-tuned and precise, giving her an "early warning detection system" like that of a cat, which alerts her to any danger that might be approaching. To be more precise, her hearing is much more finely tuned than that of an average human - she can hear much higher-pitched sounds (64 kHz), 1.6 octaves above the range of a human, and 1 octave above the range of a dog. To put it into context, Emma can judge within 3 inches/7.5 cm the location of a sound being made one yard/91 cm away. Even her sense of smell is 14 times stronger than that of an average human. Finally, in regards to her senses, Emma can see quite well in extremely low light (again, much better than your average human), and has a much better depth perception, meaning she can judge distances better than most other people.

One of the major drawbacks of her feline-ness is the fact that sometimes... she tends to act a little bit too much like a cat, without even meaning too. Her instincts just seem to take over and she ends up doing very strange things. For example, during the day (especially during classes) Emma might indulge in a cat-nap. Dangle a string in front of her and she'll become hyperactive, and end up trying to chase after and catch said string. If she smells fresh fish in the canteen, she might try to steal it for herself. Even if someone was to throw catnip at her, Emma would become like putty in their hands. Also she loves milk. Just saying.

HOW DID THEY FIGURE OUT?
Emma grew up with her powers, in all honesty, never really noticing how very different she was. Her agility was something she just put down as having a talent in sports (she was very good, and was usually winning races on sports days at her old school), or complete luck for not falling down a flight of stairs and landing on her head. Even her sensory perception was not something she fully appreciated - as she always seemed to have it, it hardly seemed special to her. Well, that was until she was once taken to the opticians, and the doctor expressed his surprise at how incredibly good her vision was. Almost too good. But overall, despite the fact she knew her older cousin (broer) and Nico had strange powers, Emma always considered herself fairly normal.

It was actually the display of her "nine lives" ability which finally highlighted that Emma Zuiderduin was in fact abnormal. One summers day when Emma was about 10 years old, she had been out with a group of friends to get ice-cream, when one of the girls in the group had run out into the road in order to retrieve a lost coin. It was peaceful and the street seemed empty, however Emma had heard the car speeding closer and closer before her friends were aware of it. In an flash, the Belgian leapt out into the road and pushed her friend out of the way of the speeding car, only to get hit by it herself. At such a high speed, this sort of collision would have probably killed a normal girl. But, after thirty seconds or so, lying motionless on the ground, Emma suddenly stood up. Not a single injury, not even a scratch, was on her. In fact, it was as though nothing had happened. It was then that Emma realised the fact that she was not just your "average girl". She was very different.
`EVEN WHILE WE SLEEP. WE WILL FIND YOU,
EMMA LIKES
✓ Cooking and baking: This is Emma's favourite past-time and hobby. With a love for gourmet food and a talent for being able to whip up culinary delights from even the simplest ingredients, Emma really has got a talent in the kitchen. Her major strength when it comes to preparing food is in baking; she without a doubt makes some of the best cakes, pastries and goodies in the entire school! Which is something she will not hesitate to remind her classmates. Emma will always be delighted to whip up a treat for any hungry students in need.

✓ Sweets: Emma has a major sweet tooth; this is an undoubtable fact. Her favourite foods are the world renowned chocolates and Belgian waffles! She is addicted to chocolate bars and chocolate waffles, and usually has a stash of sweets somewhere accessible in case of an "emergency". She is nearly always seen munching on a bar at school, home (etc). Waffles are also her favourite comfort food, so if she is feeling a bit down it is the first thing she'll turn to for cheering herself up. She likes "gourmet treats" in general, actually.

✓ Cycling: She is a very outdoors-y sort of person, and cycling is by far her favourite sport. Whenever she feels the need to clear her head, she will get out her bike and go out for a ride (or may just take a walk instead) around and about the city, depending on where she is. Emma is also rather competitive on the on the bicycle, and may encourage others to try and race her from time to time.

✓ Games: She has a rather nerdy streak, as some might call it, and absolutely adores any type of games. Video games (especially horror-based ones) are some of her favourite things to do in her free time. That, or she's always up for a good game of chess. In her family, Emma is considered the chess goddess master, and is always the one out of her siblings who always wins a chess game.

✓ Comic books: Emma has a love for comic books; a secret passion of hers, and she has an incredibly large collection of them at home. Emma hates it when people say that comic books are for children and that they are immature. For her, they are genuinely enjoyable! Tintin is her favourite series, though she can't ignore the Smurfs either. They're also rather entertaining.

✓ Music: In particular, jazz music is her favourite genre. Emma is rather good at playing the saxophone, and loves to indulge in a bit of playing in her own time. However, don't ask for her to play for you! She's rather embarrassed about preforming, and tends to make up excuses like "Ah, I can't hold my saxophone! It's too heavy!" to get out of those situations.

✓ Parades and festivals: She simply adores festivals, Mardi Gras and any other type of parade or celebration you can imagine. They are always her favourite times of the year! It's so much fun~ Everyone gets dressed and just has a good time, which is always a joy to watch~ The festivities can really help to brighten any day, no matter what the general mood or weather is like. Everyone loves a good old party, and Emma is no exception.

✓ Animals: Be it cats or rabbits, so long as it's cute and fluffy Emma's heart will melt. Of course, because of her older brother's love for rabbits, she is often purchasing or hand-making bunny toys to give to him as presents. Though... occasionally she may snatch some for herself as well.

✓ Socialising: As mentioned earlier, Emma really adores to interact with people. It's much more fun to have more friends than to be a recluse, and she tries her hardest to get Lars to be nicer to people and make more friends. Unfortunately, his stinginess is making this a rather hard endeavour...

✓ Languages: Emma really has a talent for languages. She is practically multiligual, and can fluently speak Dutch, Flemish, French, German, Luxembourgish, and of course English. Emma can be a little bit of a show-off when it comes to her language abilities, and she tends to casually switch between them without much thought. She is also learning Spanish, and is already doing pretty well at it.

✓ Fairy-tales: Those stories which end in happily ever after (okay, so we're talking about the more "tame" versions of fairy-tales rather than the originals here) will always have a place in Emma's heart. There is something about the magic and romance from them that has stuck with her, ever since she was a little girl. Of course, like every young child, Emma wanted to be a fairy-tale princess when she was a girl, and even today she would love to have her own "happily ever after" as well.

✓ Her Brothers: Her darling siblings will always have a special place in her heart. She loves them like any younger sister who looks up to their elder siblings, or an older sister who baby's the younger would. The Zuiderduin siblings in particular have an incredibly strong bond, and it is rare for the three of them to argue with each other. Though Emma is not always fond of Lars' attitude to others, she still adores him, and often visits with cakes, waffles, chocolates and other fine gourmet treats and gifts in tow (don't worry - Nico gets just as spoiled as Lars). It was Emma who made him his favourite scarf which he is hardly seen without.

✓ Children: There is no doubt about the fact that Emma would make a wonderful mother. She dotes on children of any age; their youthful cheer and positive outlook is something she sees reflected in herself, and she enjoys spending company with those younger than her as their carefree nature often lifts her own mood as well. Emma is a caring figure, and does take on quite a protective stance on those younger than her. To those who lost their parents, she acts as a mother-figure who visits as often as she can. Emma has become quite popular with a large number of the younger children at Asher Academy, and those in the town.

✓ Reading: Emma loves books and to read, no matter what the genre: comics, crime, fantasy, romance, drama, anything and everything you can imagine! She has an active and very vivid imagination, and books just fuel it on. The Belgian does not struggle to get lost in a good book from time to time.

✓ Anything romantic: If it had not been stressed enough by now, Emma is a completely hopeless romantic. In fact, you could call her a complete sap when it comes to anything remotely romantic or lovey-dovey. Miss Zuiderduin will often gush over other couples she sees together, acts of love, crushes, Valentines Day (etc). She also likes to try and play cupid sometimes, and has tried setting people up on more than a few occasions.

✓ Flowers: Emma would love a garden she could take care of. It would be full of poppies and tulips; her favourite flowers. There is something undoubtedly beautiful about nature, in particular the bright and vivid colours of flourishing blossoms. Although she has little time for horticultural activities, Emma does fill her home with potted plants, flowers and bouquets to brighten up the space as much as she can.

✓ Sewing: Her mother taught her to sew when she was a little girl, and really, she isn't half bad at it. It's one of those hobbies Emma finds quite relaxing, and sometimes the best way to unwind is just to sit in a quiet room with a needle and thread and let your hands get to work. Emma made her brother's scarf by hand thanks to this little skill of hers.

✓ Hercule Poirot: He is pretty much the only famous fictional Belgian! Emma read some old books by a woman named Agatha Christie a while back, and took an instant penchant to the detective who often got mistaken for being French. There was just something she found particularly likeable about the character, and he has proven to be one of her favourite literacy figures.

✓ Markets: The lively hustle and bustle, as well as the excitement of bartering for a good deal is something Emma finds truly enjoyable. It is also a plus that she is able to find the odd gem and treasure located amongst the various items on offer and for sale in the streets. Come market day, she is often one of the first people ready and waiting to see what the stalls have on offer this time round.

✓ Gossip: Okay, truth be told, Emma loves to hear all the juicy and interesting stories that get passed on from one person to another. It's the best way to find out what is going on between people, after all, and Emma simply has to be kept in on the loop!

EMMA DISLIKES
✗ Formalities: Emma's bubbly personality means she'd much rather be on personal terms with people. To her, being formal just feels so fake. She even has a habit of referring to herself as "Em" instead of Emma just to make her seem less uptight and formal. Often, Emma is the sort of girl to forget about formalities when addressing her teachers and elders, and ends up chatting away to them like they are the best of friends. Of course, this doesn't always go down particularly well, but she really doesn't care.

✗ French fries: Well… she loves French fries because they are absolutely delicious. No, what Emma dislikes about them is the name. Because they are Belgian! Not French! Why did France take the credit for something they didn't make; Emma will never know. But, it just irritates her for some reason that everybody thinks they're French, not Belgian. Yes, it's petty, but it's just one of those little pet peeves she cannot get rid of.

✗ "Boring": Please, do not ever call Emma Zuiderduin "boring". Sure, she admits that she does not exactly stand out from the crowd, but she really does try her hardest to make more of an impact! It's just plain old rude and nasty to label somebody like that just because they aren't exactly the centre of attention all the time.

✗ Smoking: The fact Lars engages in this habit irks Emma no end, and she is often telling him of the risks to his health smoking brings. Not only that, but it just seems pretty foul to her. The smell is not exactly pleasant, and she just can't get her head round why anyone would actually want to start smoking. It seems pointless to her, not to mention dangerous.

✗ Cheap chocolate: Ew, no. It is really disgusting, okay? And you can just taste that it's not the best standard as well! Emma refuses to touch the stuff, even with an incredibly long stick…

✗ Bullies: She absolutely cannot tolerate anybody who picks on those weaker or more susceptible to upset. Emma finds bullies to be cowards more than anything, and will not hesitate to stand up to them and defend those they are hurting. They are just one of those types of people who, no matter how open minded she tries to be about, Emma simply cannot bring herself to sympathise with.

✗ Physical violence: Being the sort of girl who prefers to settle things more passively and peacefully, Emma really does not like the use of physical violence. Of course, everyone fights from time to time, including herself. However, it is not something she enjoys in the slightest, and she would much prefer it if they could find some other way to deal with some of the problems these teenaged heroes have been faced with.

✗ Stress: As a student who is constantly doing extra work around the school, on a daily basis, whilst also trying to keep on top of her homework and such can prove to be more than a little bit stressful. Emma unfortunately suffers from frequent headaches due to the stress of trying to cope with the pressure of school. She does a pretty good job of staying upbeat despite this, though everyone has their off days, and Emma is certainly no stranger to those.

✗ Bad weather (yuck): When the weather is bad, it usually means that Emma ends up getting stuck indoors. However, she would much rather been outside, enjoying the hustle and bustle of the streets, walking around, and soaking in the sun. That sounds much preferable to being stuck inside with nothing to do, ja?

✗ Being ignored: Not standing out much can be rather a nuisance. Emma may be a rather plain girl, especially in comparison to some of her much more attractive or physically impressive classmates, however she knows that she has the potential to be super badass powerful and it really irritates her when she is forgotten or ignored.

✗ Blonde jokes: They are incredibly insulting, and she really does take them personally. Emma would say that she is not your "stereotypical blonde" and tries to rise above any jokes that might be made, however they still get to her and can be rather hurtful sometimes. Oh, and don't ever call her "Blondie". Even though people tend to do that anyway.

✗ Flavourless food: It's so bland! How could anyone enjoy food that tastes of nothing? The main pleasure comes from the taste, and she much prefers to have seasoning and sauces on her dishes than leaving them plain. Otherwise they are just dull.

✗ Non-alcoholic beer: ...She doesn't even see the point of this. Why have beer without the alcohol?! Doesn't that completely defeat the entire object of the beverage in the first place? To Emma, it sounds like it would be completely rubbish and bland if beer was lacking alcohol. Also don't be surprised; Emma does occasionally drink. But that's our secret, okay?

✗ Disagreements: Be it arguments or people just being unable to get along, Emma hates it! She would much rather people would cooperate with each other, and often goes out of her way to try and resolve issues which usually have nothing to do with her in the first place. This generally makes people believe she is being nosy, however Emma insists she is doing it for the greater good of her team-mates! Honest!

✗ Sadness: Her positive attitude means that Emma really can't stand to see people upset, nor does she like it if she's sad herself. It is rare for this to happen, yes, and if she ever is sad Emma often looks for things to show how thankful and happy she should be. When someone else is feeling blue, she'll bake them up a nice waffle to lift their spirits, and sit with them for a while to try and make them smile.

✗ Dirt: There seems to be a trait running in the Zuiderduin family that they are neat freaks. Emma certainly is one herself, and she keeps her dorm room completely spotless and sparkling clean. If there is a single spot of dirt, it is quickly removed. She detests anything dirty with a passion, and really puts a lot of effort into keeping everything spotless.

✗ Snobs: Another group of people Emma finds it hard to get along with, no matter how friendly she tries to be. People who seem to walk around thinking they are the best thing since sliced bread gets on her nerves so much, and she really has to hold back on telling them off for their behaviour.

✗ Liars: Honesty is an important trait to have, Emma believes, and everyone should strive to be as truthful as they can. This is the main reason that she cannot stand it when people are dishonest and tell lies. Sure, the odd white lie every now and then is acceptable, but those who seem to be compulsive liars just really annoy Emma.

✗ Insects: They are not exactly the most pleasant of creatures around. This may sound rather a stereotypical "girly" trait, but Emma can't help but find insects, bugs and creepy-crawlies absolutely disgusting, and she tends to avoid them if she can. It is not as if she will run around screaming if a fly buzzes past her ear, but she certainly does not like getting closer to them.

✗ Being called Dutch: Yeah... Emma's Belgian. Get it right.

FEARS
✖ Abandonment: It's irrational and ridiculous. There is no way to explain it, but Emma is constantly worried that she will get left alone and forgotten by those she loves. The fact that she doesn't stand out does not help the situation. Sure, she can handle being alone and certainly considers herself to be quite the independent young lady. But even so...

✖ Spiders: Another very immature fear to have, really. She can fight against titans on a daily basis, but seeing a spider will make her scream and hide behind a companion in fear. Emma really finds spiders that creepy!! With their eight legs and how they scuttle around. Yuck. They're foul!

✖ Growing apart from her brothers: As mentioned before, Emma cherishes her family with all her heart. They all share a particularly close bond, and the thought of something ever happening to them is truly devastating for her. She is truly glad that Lars and Nico are attending Asher with her. Emma can't even bear thinking about the thought that they may all end up parting ways at some point.

✖ Darkness: This seems like a rather... immature fear for a young lady to have, yet it is one of those things that just highlights how very human they all are. An irrational fear, Emma admits, which has always been with her, she really hates to be in the dark unless she is sleeping. You really do have no idea what's lurking in the shadows, shrouded in the dark. There might be something there that wants to harm you. Not knowing what could be there scares Emma the most...

✖ Splitting apart: Once upon a time, a much younger Emma had an incredibly traumatising nightmare that she, somehow, ended up getting physically split apart. Of course, it's very unlikely to happen, but the thought of such a dreadful, disturbing and sickening fate still sends shivers up her spine.

QUIRKS
★ Multilingual: Her aptitude for languages means she finds it very easy to converse in various tongues, and sometimes it is so natural to slip into another language Emma does not always realise she is no longer speaking English to people. Her sentences are seasoned with the odd word or phrase in French, Dutch or German thrown in, often accidentally. Admittedly, however, she does occasionally like to show off her little talent.

★ Chocolate: Emma always, without fail, has a bar of chocolate on her person at all times. She says she carries around the snack "in case of an emergency", aka suddenly feeling a little hungry. It is also a pretty common sight to see Emma munching on said bar of chocolate, no matter where she is or what she is doing.

★ Ribbons: You will never see Emma leave her room without one of her famous ribbons in her hair. The colour of said ribbon will depend on her mood or outfit, but usually she wears red, green or black material in her hair. Emma, for some reason, says she feels naked if she ever goes without wearing her ribbon for a day.

★ Smile: Just like how rare it is to see Emma without her ribbon, it seems just as rare to see her without a smile. Being the optimist she is, she goes about trying to see the good in every little thing that happens, and wears a smile to keep herself feeling fresh and upbeat instead of glum and downtrodden when things go wrong.

★ Talkative: Oh dear. Emma really could talk for Belgium. If she gets onto a topic or subject in a conversation which particularly interests her, she does not even seem to take a breath between her words, and would go on and on until somebody would have to stop her. Simply put, she is a complete and utter chatterbox.

OVERALL PERSONALITY
❝To sum up somebody like Emma Annette Zuiderduin simply, the best and easiest way to describe her is that she is a "glass half full" type of woman. A bubbly, cheerful optimist right down to the core, it is extremely rare to see Emma Zuiderduin without a genuine smile on her face. She goes about each day searching for the good in everything, looking on the bright side of life even when the world might be against her. It is an incredibly hard feet to put someone like her down; no matter how many times you knock her over or try to put a dampen on her spirits, Emma will just get straight back up and continue smiling. That smile of hers, so warm and bright, is even able to encourage a little bit of cheer from her grumpy elder brother on occasions. "Don't worry, be happy!" is her motto in life, and boy does it show. Happiness just bubbles out of Emma for the majority of the time, and her upbeat outlook on life is what helps keep her motivated during more difficult times. She honestly tries her very hardest to remain positive; though this can be a hard feet sometimes, Emma may just force herself to keep smiling to help keep everyone else's spirits up. Emma is rarely seen not smiling, and she always tries her best to keep everyone else as upbeat as possible. This bubbly personality may make her come across as annoying or a bit of an air-head, but she really doesn't care what other people think about her chirpiness. It will be a bleak day if and when Emma ever stops being joyful.

There is an inextinguishable enthusiasm Emma has, which she pours into every little thing she does. Passionate about the things she loves and treasures most deeply, Emma cherishes, cares for and puts every ounce of effort she can into those trivial little things that lighten her day and keep her smiling. Emma is a vibrant young lady, often portraying strong feelings and emotions (which may be perceived as just being over-dramatic by most people). There is always enthusiasm in what she enjoys, and also very strong emotions in what she doesn't as well... Really, Emma is just a bit theatrical, and puts a certain fire into all her feelings that makes them much more prominent and strong than most other peoples.

Of course, she is only human, and it is virtually impossible to constantly remain happy. Though it is a rare occurrence, there are times when Emma allows her emotions to get the better of her. If, for some reason, she is ever made upset, she has a habit of trying everything she can to cover it up. Forced smiles and blasé replies of "I'm fine! Honest!" become frequent during times of unrest. Though despite her best efforts, it is easy to tell when she is down. Like a book, Emma is quite easy to read. She loses her general "oomph" and vibrancy, her eyes lose their vivid sparkle and her voice becomes strained. There have been times when trying desperately to maintain a more upbeat demeanour, she has practically ended up working herself into hysterics. Her hysteric states can also be brought about by extreme stress, or reminders of certain incidents she would rather forget. Emma tends to go into complete anxiety, sometimes suffering from mild panic attacks when pushed to her limits. As stated earlier, however, these are incredibly rare events to happen, and only occur during the most extreme circumstances.

One thing she has a problem with is when she considers people are "being mean" to each other, to put it simply. Bullies she most certainly will not tolerate! Emma finds it incredibly awkward and uncomfortable when there is unrest between two people, so will constantly stick her nose in to try and fix any messes others have caused. This makes her come across as nosey and interfering, however she'll insist she's not trying to get gossip out of a situation... Then again, sometimes there might be more than trying to fix a problem, and juicy stories with friends does seem to be a favourite thing of Emma's.

Emma Zuiderduin is quite the social butterfly. Her virtually constant cheer, along with a lot of confidence and an open and friendly demeanour. She finds it easy to get on with people; never once suffering from a lack of self-assurance or poise. Emma is able to make and keep conversation going, can easily mix in social circles and has little difficulty in befriending others. Friends are something she holds dear to her, and her large numbers of acquaintances and buddies always get the very best treatment from this Belgian teenager. If you're ever invited over to her home, she'll treat you like royalty, and is incredibly hospitable. She takes great pride in her people skills, and looking after guests is her speciality. She'll make sure everyone has a blast in her company. Give her a beer, and Emma's even more outgoing and lively than before (if you can imagine that)!! Then again, alcohol makes even the most uptight of people much more outgoing. And yes, Emma does like alcohol even if she is underage. Don't tell the teachers or her brothers!

Friendly; incredibly so as mentioned before. She is very open to people and has a kind, trustworthy heart. Emma always tries to see the good in people, no matter who they are. There is a slight naivety to her in this respect, and sometimes Emma really is not the best judge of character at all. Her overly trusting nature has landed her in a few difficult situations in the past, and though today she does her best to be less… open minded, Emma honestly finds it hard to see the "bad sides" to others. Because no matter who you are, in her mind, someone always has the best intentions at heart, right? Just like she does.

Admittedly, Emma is a bit of a hopeless romantic. Romantic comedies are always her favourite genre of movies, and the prospect of finding a "soul mate" or "one true love" is rather… appealing, to say the least. A lot in her life revolves around that one magic word – love. Though she doubts she may ever find the one person who is truly right for her, Emma's more human side remains a dreamer and continues to cling onto a small speck of hope that one day she might find that special someone. In the meantime, though, she will smile and admire other romantically involved couples. She won't begrudge them; in fact, she supports and cherishes that spark they share. Emma really finds it adorable to see couples out together, holding hands and sharing romantic moments together. All that "gooey smushy stuff" is very much likeable to her. If that special someone ever does come along to sweep Miss Zuiderduin off her feet, she'll be expecting to be wooed with chocolates (Belgian, obviously), roses, the whole package! It's clichéd, she knows, but it's what she likes! Everyone has a soft spot for chocolates. Oui? Coupled with the hopeless romantic is a rather teasing, playful and flirty side to the woman. Emma will be that girl to flutter her eyelashes in someone's direction and giggle at what they say; such flirtations will only grow if the person in question reacts and responds to them.

She is also willing to help people as much as she can and spread a bit of kindness, which sometimes makes her seem like a bit of a push-over. That does not mean she is unable to hold her own, though, and when Emma knows what she wants, boy does she fight for it. She is willing to stand up for herself, her beliefs and put up a fight. In that respect she is very strong willed. Emma is also quite strict and slightly stubborn, refusing to back down or change her mind. Sometimes she may come across as fussy or picky (even demanding) if she does not get her way, although, she does not mean to be malicious. She's just a strong-willed girl who knows what she wants. And there's nothing wrong with knowing what you want, ja?

Maternal, caring and mature. She is like a mother bear; towards those she knows well, she is incredibly protective and cares deeply about that. Emma is the sort of girl who will do things and try to convince others to do things as she sees it as something beneficial to them; something that will help them. Emma will be that friend who cooks pots and pots of soup for you when you're sick, and will rush over to tuck someone into bed and take care of them until they recover. With a heart of gold, she genuinely is a decent, kind teenager. Her mothering instincts make her seem and act a lot more mature than certain others as well. While everyone else is messing around or panicking, Emma will be the one to calmly sit, evaluating the situation, until she can come up with the most sensible and easy way to resolve issues. There have even been times when she comes up with rather wise statements almost out of the blue, helping lead to the much more sensible image she has taken on. Reliable, most certainly. She will always stand by those she cares about and will always be there to lend a helping hand. Whilst sometimes she may not have the best solution to a problem, she will still try to find one to help someone she cares about when they're in need. Emma is also very loyal, especially to her friends and family.

The Belgian student in dedicated; that is for sure. Emma is not one to back down when things start looking difficult. She is a fighter in that respect. When she sets her mind on something, she won't back down unless there is absolutely no way she can continue. She is driven, especially in what she has a passion for (as mentioned earlier). A hard worker with bucket loads of determination, she is extremely meticulous and diligent even if writing up school reports and homework can be a bit of a bore. She is incredibly serious about her duties as a student, and is often found busying herself with extra work and trying doing the best she can for her school. Work is important for her, and she will refuse to get distracted when she's meant to be doing business. This makes her very much a focused person, and once she has a goal in mind she will work and work until she reaches it. Those stereotypical "ditzy blonde" jokes clearly do not apply to a girl like Emma; she really is a bright little cookie. Able to assess situations and come to quick resolutions to resolve issues, some of her biggest strengths lie in her thinking abilities. She may not be the most powerful woman, or the best fighter, but her quick thinking does help her get out of trouble most of the time.

However, do not think she is totally sweet and "innocent". When angered she will not hold back and can become quite rude and frightening, losing her sweet personality and becoming incredibly fierce. Although she dresses quite plainly, making her easily unnoticed or ignored, she is very feminine compared to some of the other female students. She would rather not be getting into fights or trying to act tough all the time (even though she can easily hold her own) like some of the others and this might make her seem a little wimpy. Her innocent demeanour means she comes across as being scared all the time, however she really is quite strong after some of the things she's been through in her past. She can be easily angered, or hurt, if insulted in anyway, and will not go lightly on whoever it was who upset her. When people tend to jump to assumptions about her, she will be quick to prove them otherwise. Don't assume that Emma is unable to look after herself, for she can. Resilient, independent and self-reliant, Emma can stand up for herself, fight back and will not back down. She'll dig her heels in and defend herself until the end, no matter what.



`ACTING ON YOUR BEST BEHAVIOUR, TURN YOUR BACK ON MOTHER NATURE!
One of the most rare of occurrences in this foolish little world was to see a certain Emma Van Dyke without a smile on her face. It was during this ball, this "celebration" of the year, that the blonde girl in question was in fact frowning. The pout that was worn on her face was aimed rather pointedly in the direction of the commander of the Military Police; Emma's brother, Lars. Her mother, all decked out in her gorgeous finery as she sat there and enjoyed the delights of the wine, was too caught up in this new world of luxuries to even notice as her youngest child sat beside her at the table, sulking.
The girl had sat there and fiddled with the skirt of her crimson ball gown (Lars had practically forced her into the frock before dragging her off to this social event) and continued to do what she had been doing since arrival at the Military Police headquarters; ignoring everything and everybody. The speeches made fell on deaf ears, and it was only when her mother gave her a soft nudge did Emma eventually raise her olive green eyes to glance towards the stage and the three men stood upon it. Then, the pout had appeared on the girl's face as their toast was made.
Usually, Emma would have been so much more excited to be brought along to this sort of event. A ball; it was every little girl's dream to attend one and pretend to be a princess for the night! But... getting into a heated argument hours before the party would tend to put a downer on things. And this was the case for Emma tonight.
The long-running "fight" between the siblings had been causing a rift in the family; one which neither particularly liked. However, Emma was just as stubborn as Lars was over-protective, and it seemed their arguments had reached a stale-mate as they continued to go round in circles over the same thing.
Emma wanted to be sent back to the Scouting Legion, Lars said no. It was turning out to be a never-ending cycle.
The girl let out a heavy sigh as the crowd all raised their glasses to... whatever had just been said, and reluctantly she followed suit. After a round of applause, the drinks were all knocked down as the laughter and excitement in the ballroom began to crescendo. Emma, still without a smile, eventually excused herself from her mother's company and stood up, striding away with an air of confidence straight towards the stage. She had a chance to try and fix this mess tonight, but there probably would not be much time. Best to try and get this over with as soon as possible.
"Excuse me?" Emma addressed the three commanders and gave them the famous military salute (it felt particularly strange to be preforming such an action in this ridiculous dress). A polite smile finally gracing her features as she faced both Erwin Smith and Ludwig Beilschmidt, though it did momentarily slip when she glanced at her older brother. "I would like to have a word with you, Commander Smith and Commander Van Dyke, if that is... okay?"
There was one goal to her polite request, one which Lars probably knew before she had even posed the question: could she return to the Scouting Legion?
-
SNK x Hetalia crossover
`EVERYBODY WANTS TO RULE THE WORLD!

YOUR NAME/NICKNAME Amy
AGE 17

-----------------------------------
I am Emma Zuiderduin and I am a HERO!