Post by Deleted on May 30, 2014 13:08:16 GMT -5
`MATTHEW CLAUDE WILLIAMS!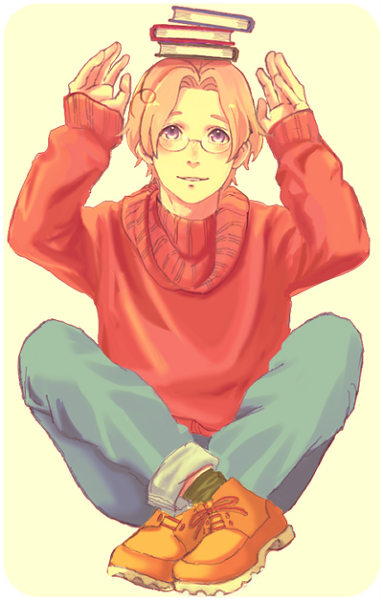 `NOWHERE MAN, THE WORLD IS AT YOUR COMMAND!

FULL NAME Matthew Williams
NICKNAMES Mattie, Matthieu, Maple
AGE 14
GENDER Male
ETHNICITY Canadian
TEACHER OR STUDENT Student
GRADE Year 4

SPECIAL ABILITY(s) Invisibility. His control over it is a little spotty (for instance, if he's ever startled, then poof!), but he's able to turn invisible for any period of time. While in that state, he is able to move through walls and objects, and people are unable to touch him - but if he speaks or makes any noise, he might blow his cover.

HOW DID THEY FIGURE OUT? Give us two paragraphs or so of how they discovered their powers.

`HE'S AS BLIND AS HE CAN BE,

MATTHEW LIKES
Pancakes | The breakfast general meal of champions. They're his favorite food no matter what time of day it is, and honestly the only thing he knows how to cook well.

Nature | What isn't beautiful about the outdoors and its thriving ecosystems? Even in the cooler seasons.

Animals | Although polar bears are his particular favorite, he likes animals of all sorts. He has a polar bear plushie that he usually keeps in his dorm room. Kumajiro is its name, but he tends to forget that.

Winter | Matthew has never really minded the cold. Winter is his favorite season because he adores snow and it reminds him of home - and also gets him thinking about nice things like hot chocolate and ice fishing and Winter Olympics.

Hockey | He's very supportive of his home team and veeery passionate about the sport itself, whether he's participating or simply watching a game. He'll be happy as long as no one insults it.

Pastries | When he has a sweet tooth, he'll coat his pancakes in sugary toppings. Otherwise he likes to go and try other decadent things, usually from bakeries and other sweet shops.

Doodling | Not that he's spectacular at drawing, but he'll like to doodle on notebooks or the margins of his homework when he gets too bored.

Maple flavor | This might be tipping close to addiction, because he likes to put maple syrup on a lot of things he eats. Maple improves the flavor of everything. He doesn't notice that he ends up smelling like it, but others have called him nicknames like Maple for it.

Gifts | They're just so nice - whether he's giving them out or receiving them. He thinks his little gift ideas are quite creative and thoughtful, and he likes brightening peoples' days.

Stuffed animals | Kumajiro might be the only one that he has, but he's always wanted to start a collection. He's a little self-conscious about it, which might be why he hasn't started on that yet.

Vacations | He does like where he's staying, of course, but he'd like to go visit other places every once in a while. Even if it means going back to Canada for a while, he loves traveling and taking vacations.

His Brother | People say that Alfred is his polar opposite, and he doesn't disagree. He and Alfred get into playful arguments as any brothers would do, and sometimes Matthew finds himself jealous of his older brother... but he wouldn't give Alfred up for anything else in the world. He might be in Alfred's shadow sometimes, but he admires and tries to be protective over him.

Having company | In his dorm, just... anywhere. He likes to make sure everything (including himself) is nice, neat and prepared if someone ever wants to visit. He's often nervous and fretful when with company, but once he warms up, he's sure to be as hospitable and friendly as he can be.

Music | He likes listening to soft music and one day aspires to learn to play guitar. He's too shy to try singing, so an instrument will have to do.

Learning | He loves to collect books outside of his studies, whether they're about music, marine biology or a foreign language he might not ever need to use. It's all in good fun.

Sightseeing | Whenever he has peaceful time away from class or other matters, he'll enjoy just to sit and watch people or his surroundings. Whether or not it's a new place, inspirations can come to him out of nowhere.

MATTHEW DISLIKES
Fighting | He's just not very good at it, so he tends to avoid physical conflicts. Not even his words can save him, because he's pretty bad at insults, too. He won't like to be mean unless someone is really calling for it.

Yelling | One won't often hear Matthew raise his voice. It isn't that he can't, it's just that he doesn't choose to. Other people yelling gets rather annoying, too.

Being in the middle of things | There's usually nothing he can to do help when he's caught within conflict between other people. He can either try and get people to calm down, awkwardly watch their bickering, or just turn invisible and slip out of there.

Greasy food | He doesn't always think highly of Alfred's food of choice. Although Matthew isn't the healthiest eater with his fixation on syrup and sweets, he at least likes to know that his food is homemade rather than from a fast food chain.

Being mistaken for someone else | It happens a lot. He isn't sure why or how, but it does, and it never pleases him. Seeing someone get excited over your presence only to find that you're not who they expected - it's a bummer.

Obnoxious people | He does like his peace and quiet. He has strangely calm patience when faced with these loud types of people, but they can be stressful to put up with.

Heat | He prefers cool weather to a scorching sun. He's more accustomed to wearing heavy, baggy clothing, and that's never comfortable to wear in hotter temperatures.

Crowds | Being surrounded by people gets his anxiety going. Although he's surprisingly tall for his age, he feels extra small and insignificant to those who overlook him.

Being under pressure | While under pressure, chances are he'll panic and make an awful decision. Decisions are hard to make in the first place, but he prefers that he has time and space to think them over.

Taking the blame | This is something he habitually does, but... he's never too proud of it. He just doesn't want to see people get in trouble. (If they're really deserving of it, though, he'll be spiteful and let them have the blame as they deserve.)

Alcohol | He's tried beer and didn't think it was too bad, but at the same time he doesn't want to get into that habit.

FEARS
Being forgotten | It's a bit of a ridiculous fear, stemmed from his own paranoia. He's had dreams in which his power goes out of his control, he turns eternally invisible and people eventually forget who he is - and sometimes he can't help but panic that that might happen in reality. Even having to remind people of his name worries him.

Dolls | He doesn't understand how anyone isn't intimidated by those glossy, staring eyes. Stuffed animals are definitely much different and much better.

Never coming out of his shell | He aspires to come out from the shadows of others. He wants his name to be remembered (although he knows he's plain) and he wants to be able to approach people without trembling and stuttering with nerves. He just doesn't know how to make it happen, not yet, and so it startles him that he might always be such a timid person when he grows older.

QUIRKS
There's a particularly long and curly strand of hair that sticks out from the rest. Don't touch it, it embarrasses him.

He doesn't fare well without his glasses on.

He does tend to stutter when he talks, more so out of habit than constant nervousness. His voice in general is rather quiet and ends its speech with a very Canadian "eh".

He's clumsy and might drop things or trip over himself in hallways.


OVERALL PERSONALITY
430+ words, including both the goods and bad of your character.



`JUST SEES WHAT HE WANTS TO SEE!
Roleplay example here, give me your average. This is a literate rp, so look at the rules for word minimum (250 words). Can be from another site just make sure its your character.
`NOWHERE MAN, CAN YOU SEE ME AT ALL?!

YOUR NAME/NICKNAME Jen
AGE 18

-----------------------------------
I am [name] and I am a SIDEKICK/HERO/TEACHER!
(Do not fill this last section out. Admin will fill this out upon your acceptance.)