Post by AOIFE O'NEILL on May 30, 2014 4:04:44 GMT -5
`AOIFE SAOIRSE O'NEILL!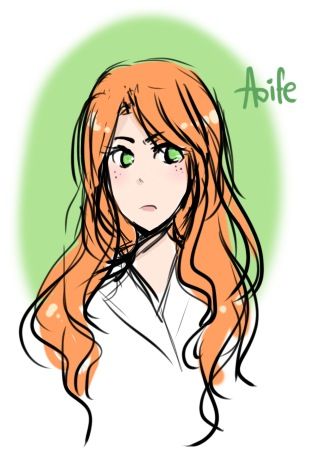 `WELCOME TO YOUR LIFE, THERE'S NO TURNING BACK!

FULL NAME Aoife Saoirse O'Neill-Kirkland
NICKNAMES Evie, Eva, Ginger, Red, Paddy, that Irish chick, Carrot top, Freckles, Fire-head, Potato Girl, etc.
AGE 18
GENDER Female
ETHNICITY Irish
TEACHER OR STUDENT Student
GRADE Year 7
SPECIAL ABILITY(s) 
╰☆╮Pyrokinesis (primary ability): Aoife posses pyrokinesis, or as most people call it, fire manipulation. This is, in other words, the ability to control the kinetic energy of atoms to generate, control or absorb fire and heat. She is still rather unsure of how she came about this power, or how it fully works, but her rather... eccentric mother claimed it had something to do with "ancient druid white magic" or something. Aoife wasn't really listening. The entire thing is very new and different to her, and there is probably much she has yet to learn about it.

What she does know is this - she has the ability to create fire at whim and control it to do what she wants. Mostly it comes from just a single thought and then, whoosh! Uh-oh, another building is on fire! As already stated, the process only requires a simple thought, though Aoife tends to be rather theatrical with it and likes to snap her fingers or generally make wild gesticulations before creating another burst of flames. Another much more dramatic thing she has been known to do is to either create an arrow of flames, or just set one of her normal arrows on fire before sending it flying off. It looks so much cooler than just standing there and making something burn, okay?

Her ability is an incredibly powerful one, which is not only dangerous for people around her... but also sometimes, incredibly useful in everyday life when you just can't find a match or need to light up a dark room. Aoife can send out blasts of flames from her hands, or also just set things on fire with a wink of her eye if she wanted to. But, unfortunately, this power seems to have more influence from Aoife's emotions more than her will, so she might end up accidentally burning down the building when she's angry. She gets the nickname "Fire-head" for a reason, you know.

Unsurprisingly, Aoife's main weakness of her power is water. Not only is it easy to put out a fire with a bucket of water or a fire-extinguisher, but trenching Aoife herself in water will put out her "inner fire", and prevent her from creating another one until she completely dries off. This power also requires a lot of mental and inner strength to control, and can exhaust her if she uses it non-stop for a long time. Again, exhausting herself will end up in her "inner" fire burning out.

╰☆╮Fire Immunity (secondary ability): This power comes in pretty useful when you're a living, walking fire-starter. Aoife is able to withstand very high temperatures without getting burnt, and could literally stand in a fire and emerge with no evidence of any harm. It's almost as though her entire body was fire-proof. She even seems to posses an immunity from the smoke of fire, and can literally breath in the middle of an inferno. Of course, she is not completely indestructible, and she will never risk being in a fire for too long. She is able to feel the heat of the flames as well. Rather strangely, however, this does not prevent her from getting burned. In fact, she is still naturally susceptible to sun burn, for example. Burns from fire, however, are not a likely scenario.

HOW DID THEY FIGURE OUT?
Aoife was not a girl who somehow received her powers in a nuclear accident or something. No, no, she has had these abilities for as long as she can remember. Her earliest memories of her pyrokinetic abilities are of her showing off to her brother and younger cousins as a few little sparks would dance off her fingers. Similarly, she can remember sticking her hand into the fireplace when her mother and uncle weren't looking, only to pull it out and find it completely healthy and fine. There is no specific time she can pinpoint as when she discovered her powers - in all honesty Aoife feels as if she knew she had them from the get-go. For a long while, her powers had little to no affect on her daily life. Unless her younger cousins asked to see her make "magic fire", she never would use them.

Her powers became a problem, however, when Aoife began to mature. Almost over night, Aoife found her powers began to grow unstable, along with her emotions. Suddenly, she found herself becoming frightened of her power as it began to spiral out of control. Fires would often start randomly in the house whenever her temper got the better of her. It really escalated to the extreme, however, when one day she ended up getting into an incredibly heated and rather serious argument with one of her younger cousins. The fire she accidentally caused almost burnt down the entire living room when her anger had spiked that day. After that, she and her mother moved out of her uncle's house for a while, and returned to Ireland. However, even in a calmer environment and away from her infuriating relatives, Aoife still found herself unable to control her abilities. She was sent off to Asher Academy when she turned 14, and has been here ever since.
`EVEN WHILE WE SLEEP. WE WILL FIND YOU,

AOIFE LIKES
✓ Music: Aoife was brought up in a household surrounded by music, which made a strong influence on her when she was younger. She enjoys singing (and despite her brother and cousins often telling her she sounds like a banshee, she's pretty good) and also plays the harp and fiddle quite well. She can often be found either playing one of her preferred instruments or plugged into her headphones when not in class or doing homework. Her taste in music genres is eclectic, ranging from traditional Celtic music to rock songs from famous bands such as U2.

✓ Sport: Aoife is physically fit, and very active. She loves a wide variety of solo and team sports; most of which she plays herself and others she simply enjoys to watch. Particularly rugby, boxing, golf and archery. Rugby and archery are by far her favourite sports, and she's very good with a bow and arrow. Aoife is rather competitive, really, and it shows when she's playing some kind of sport.

✓ Mythology and Legends: Aoife is very interested in the ancient mythology and legends of the world (in particular the ancient Celtic myths, as they are much closer to home). She has a whole collection of books dedicated to myths and legends. Also, she's quite fond of magic and the occult, believing in magical creatures and sorcery. She even claims to have been followed around by a leprechaun when she was younger. Aoife doesn't tend to share this hobby with many others, as it may come across as weird... but occasionally she does try her hand at magic. Usually this is done as to attempt to try and master other "elemental abilities" (such as hydrokinesis), but most of her attempts have back-fired up until this point.

✓ Poetry and Literature: Aoife has a love for reading, especially stories and poems. She is sometimes in awe of how well some of her favourite writers make their words flow, and would love to have a talent for writing like that. She has a fascination with stories, and loves some of the great writers of Ireland (for example, Oscar Wilde). Often you might find her caught up in a good book if she's not working.

✓ Hearty Food: Such as a large, warm stew on a cold winter's day. Or potatoes! They're versatile and part of a stable diet! Aoife has a love for warming stews, soups and dishes that are meant to fill you up. She certainly is a big eater. Yes, she loves eating. Especially hot food that is sturdy and can keep her going for longer. Aoife admittedly has quite a big appetite most of the time.

✓ The Great Outdoors: A country girl at heart, Aoife finds that the lush green fields of the outdoors are where she belongs. There are days when she finds the school stifling, and all she wants is to run around an empty field for hours. She is considering moving back to the countryside when she finishes school; but if in the mean-time she is given the opportunity to visit for some reason, she will not hesitate to go. As her home country was an island nation, however, there is also a strong affinity for the sea. She adores the coast just as much as the lush greenery of the countryside, so tends to find herself comfortable in any outdoor environment. 

✓ Gardening: Again, because of her country roots, Aoife has a love for growing things. She has "claimed" a small plot of land in the school grounds where she grows various flowers and plants. It something Aoife finds incredibly relaxing to do, and she'll often sneak off to her garden to escape the stress of homework.

✓ Collecting Lucky Charms: Aoife is very superstitious and collects lucky charms to "help her get along in life", and she's pretty sure they do work seeing as she's had a pretty good time up until this point. Her charms include a wide variety of trinkets; from her mother's old pendant to a lucky rabbit's foot and a four leaved clover she found and pressed when she was younger. Collecting the charms has not only become a hobby, but almost a ritual for her. They're all stored in a special box under her bed in her dorm, away from the eyes of any other student who dares try to find them.

✓ Alcohol: Although she is technically under-aged, Aoife has had a few drinks down at the pub. She is Irish, after all! Booze is practically something that is in her DNA! Aoife particularly enjoys Guinness and whiskey, and is rather looking forward to when she becomes the legal age to drink.

✓ Travel: Exploring other nations, cultures and places is of great interest to Aoife. She's fascinated by how even the Irish culture has influenced other nations, and Aoife will always visit an Irish pub in another country if she finds one. She loves to learn about new areas and their histories, and finds that travelling is the best way to do that.


AOIFE DISLIKES
✗ Mornings: Aoife is not a morning person at all, and 99.9% of the time is in an incredibly bad mood when she wakes up. That is by far the worst time to annoy her. Besides, mornings are when hangovers are at the worst. Then, there's that horrible feeling of having to drag yourself out of your nice warm, comfortable bed... Aoife hates it.

✗ Bad Weather: Aoife hates being stuck indoors. And usually, the only time that happens is when the weather is not so good. So she can't stand rain, storms or the cold. Besides, bad weather tends to put a downer on the day, and it's never exactly pleasant getting stuck in the rain and being soaked through to the bone.

✗ Skirts and Dresses: Aoife is most certainly a tomboy, and she detests wearing anything "girly". She finds that, seeing as she was always a "rough and tumble kid" who spent more time playing rugby with the boys in her home town than tea parties with the girls, she got more used to trousers. Skirts just get in the way and irritate her more than anything. She tends to dress in quite a masculine way, for both comfort and practicality, even preferring to wear the boys' uniform instead of the girls'.

✗ Discrimination: Although definitely a rather tom-boyish teen, Aoife does have a bit of a "feminist streak" and detests it when anyone puts women down in any way, shape or form. If anyone dares make some sort of comment she considers "sexist", she doesn't hesitate to give them an earful and throw their words right back in their face. Really, though, it's not just discrimination against women that gets her. Any kind will earn a telling off from her.

✗ Finances and Maths: Aoife is terrible with money and can easily imagine herself ending up getting into serious debt. She isn't exactly organised when it comes to numbers, and would just prefer letting someone else sort out her savings account. Really, when it comes to crunching numbers, she cannot handle it. Maths is by far her weakest grade on her school report card.

✗ Mispronouncing Her Name: Really, it's a pet peeve, but it frustrates her when people call her "A-oi-fe". She understands that her name has an incredibly unusual spelling (it is an Irish name, after all), but even so! Her name is pronounced "Ee-feh", in case anyone was wondering.

✗ Weeds: Stupid things.... They are a total pain in the neck and ruin all the hard work she puts into her garden. Aoife tends to flip if she sees any weeds in any garden, be it her own or someone else's', and will spend however long it takes to completely destroy them. There have even been occasions where she has literally stormed into the school yard and started out any weeds she can find.

✗ Rules: They were made to be broken, right~? Otherwise, they can be such a hassle, a real pain in the neck and make things a little boring. Who doesn't want to break the rules every now and again? Aoife really is a rebellious student, and is often pushing at the school rules in any way possible. For example, her school uniform has been "altered" so it seems much more like a casual outfit rather than clothes designed for a school environment. Also, it must be noted that she tends to wear the boys uniform. Because Aoife does what Aoife wants!

✗ Sunburn: Due to her pale complexion, she burns very easily. Which is a real pain when you spend most of your free time outside. Summer seems to be her least favourite season, just because Aoife has to spend most time sulking inside or in the shade.

✗ Flirts: They really get on her nerves, especially those she considers "prude". Anyone who "steps out of line" with her when trying to flirt will instantly get a black eye without question. Her family tease her at the only reason she doesn't like flirts is because they make her easily flustered, but that's obviously not at all accurate...

✗ Being Proven Wrong: Aoife is... stubborn, to say the least. If someone is able to prove that what she is doing/saying is incorrect, she doesn't take that well. This can make her lose her temper quite easily, which puts her in a bad mood and then the whole day is ruined (in her opinion).

✗ Sweets: It's not that she hates them. Aoife just doesn't have much of a sweet tooth. She'll always rather go for a healthier option or savoury snack than a slice of cake and such. If it wasn't for the fact she likes to drink alcohol at such a young age, some could consider her a health freak; especially when she might blatantly refuse something sweet and will instead grab a carrot or potato from the kitchen to munch on.


FEARS
✖ Snakes: Aoife suffers from Ophidiophobia, When she was a child, she was bitten by a snake she found in her mother's garden. For a few weeks, she even refused to step outside just in case the snake was still lurking in the grass. Luckily for her, Father Patrick from their local parish came and "scarred the snake away forever". However, the young girl found the experience rather traumatising (for want of a better word) and since then, to this day, she has been completely terrified of snakes. It's an irrational fear really, but they are probably the thing that scares her the most.

✖ The Banshee: As a young girl, she was brought up on fables her mother and grandparents would tell her. One was about the Banshee; a ghost that wails before someone you love is about to die. Aoife was positive she heard the Banshee cry once when a neighbour passed away, and is now paranoid about hearing it again.

✖ Defeat: Maybe it's because she wants to keep her pride intact, or just is a sore loser, but the idea of getting defeated or loosing in any way, shape or form, at anything, is simply unbearable for Aoife. It just seems to be something so humiliating! Some might call her overly competitive, or just stubborn. An even worse thought is the idea of loosing to any of her younger siblings. Again, it's a pride thing. 

✖ Loosing Her Family / Those Closest To Her: Despite the fact she doesn't appear to be particularly fond of her sibling and cousins, they actually mean a lot to her. Being family minded, she dreads the idea of them, her parents or her friends getting hurt in anyway. Those she is closest to are lucky - they'll have a great friend in Aoife, and she does go out of her way to care for them. The though of anyone she cares about getting harmed, particularly by Aoife herself, is like a nightmare come true.  

✖ Fire: This is probably one of the most ironic fears, particularly as it is directly linked to her own "abilities". But, there is no denying it. Aoife is petrified of fire. It's the unpredictability of it, and her lack of full control over fire, that makes her rather fearful of the element. Really, Aoife wishes that she had never got that sort of power. She fears herself, and that if she ever lets her emotions get out of hand, she may end up severely hurting someone unintentionally. Already, Aoife has a reputation of being a bit of an arsonist, even if the events were anything but deliberate, and she does not want to get accused of causing danger on purpose. 


QUIRKS
★ Lucky Charms: Aoife always needs to have a lucky trinket on her. Be it her lucky earnings, a rabbit foot keyring or a lucky pendant, she just can't leave home without something. Sometimes she'll even come up with her own more quirky ideas, such as wearing odd socks and claiming it is lucky.

★ Freckles: Like a stereotypical Celt, Aoife is absolutely covered in freckles. Dotted across the bridge of her nose and her cheeks, and covering her arms, the freckles became much more prominent when she was younger after spending so much time outside. The freckles give her a rather cute look, you could say. Though I would not recommend saying that to Aoife's face. 

★ Temper: In contrast with the adorkable freckles, there's a truly terribly temper which is most certainly not cute. It is pretty easy to set her off, and her temper has become rather infamous at Asher Academy. Be careful when dealing with this Irish student. 

★ Cross-Dressing: The Irish girl has a tendency to cross-dress just for the sake of it, mainly because she finds men's clothes just more comfortable in general than having to dress up in skirts and heels. Her general sense of style is very masculine - when she's not wearing her uniform her outfit seems to be that of a stereotypical Irish man: tweed trousers, waistcoat, flat-cap and all. 

★ Sarcasm: Ah yes, Aoife is a ridiculously sarcastic young lady. Most of her comments have some sort of biting tone or double meaning to them, which is always accompanied by an eye-roll or a dead-pan expression on her face. Her rather critical and sarcastic nation can get on people's nerves quite a bit. 


OVERALL PERSONALITY
❝There are two conflicting sides to Aoife O'Neill which make her quite a challenging character to figure out. Negatives and positives clash together to make a mess of a personality which will change as rapidly as the weather in the Emerald Isle. To be entirely honest, Aoife is still trying to work out who she is herself, making her quite the unpredictable young lady.

Starting with the positives, though, it is quite easy for people to like Aoife. First of all, have you ever heard of the Irish welcome? World renowned for their hospitality, the Irish have a reputation for being a friendly nation of people. And that is something Aoife herself instantly comes across as. Warm, welcoming, friendly; the sort of girl who knows how to make people feel at home, someone who is often going out of her way to be hospitable and make people feel comfortable. A lively, energetic girl who is surprisingly friendly; she's really the sort of person who always does her best to look on the bright side of life. As soon as she is in the company of those she knows and trusts, she becomes a warm and bubbly. Aoife is sociable, loves to be surrounded by people and enjoys spending most of her time socialising with fellow students. She has her moments where she really can be a ray of sunshine.

When she lets her hair down Aoife loves to mess around and just have fun, and is usually quite an easy-going character (when she's in a good mood, that is). She is most lively with her friends, and often will procrastinate and miss school-work deadlines just to spend more time with them. Not that it matters, her care-free attitude means she does not worry about the consequences of her actions. When it comes to homework... well... let's just say she'd rather be socialising in the common room. Work can be done tomorrow. Some might call it laziness, others say it's a lack of priorities but in all honesty, Aoife would just much rather have some fun than be stuck doing school work. She's got a laid back attitude about certain things in life, and doesn't mind being the brunt of jokes occasionally.

Warm and compassionate; she has shown to have a loving side to her underneath a terrible temper and stubborn attitude. The redhead has got some rather motherly instincts, and does do her best to treat people well; with the kindness and respect she believes everyone deserves to be treated with. Affection can be shown occasionally, and when it is it comes out in full force. Her family and close friends are important to her, and she shows it well. For example, when she and her mother were staying with her uncle and his children in England for a while, despite the fact she didn't always get along with them, Aoife did take on the role of the "big sister". Truly, she cares for those closest to them. However, she may get overly protective of them, and tends to worry too much over those she cares about. Despite the fact she doesn't appear to be particularly fond of her brothers, they actually mean a lot to her.

There's no doubt about it; Aoife O'Neill is a street-wise teenager, so don't question her intelligence. Sure, she may not be a straight-A student who is always at the top of the class, but she's spent enough time to know how to get around and find out information that could come in handy later. Quick thinking, she finds it easy to asses a situation and come up with a way to deal with it. Also cunning, using as much of her knowledge to weave herself into peoples' lives and make them trust her. She has a sharpness that helps her come to swift conclusions and determine outcomes that can help her in any way she sees fit.

Certainly there is a rebellious streak, and she enjoys going against the rules every now and then. Really, she enjoys causing a little bit of trouble for others by doing her own thing against what other people have told her. Some would say her rebellious streak is too much to be playful, as she tends to ignore people sometimes just to irritate or spite them. There have even been a few times when she has deliberately gone against what her boss told her, which resulted in trouble for her.

And here we move into the realms of the not-so pleasant. Like the stereotype of redheads, Aoife is a fiery and feisty teen who knows how to stand her own ground and has a bad temper. Add that to the fact that she has quite a short fuse, and you'd better run for cover. Her temper means that usually she doesn't think things through properly and just gets incredibly angry instead of calmly trying to resolve an issue. She's been through plenty of fights in her past, and has an attitude to prove it. You do not want to piss her off, for when she gets really angry, she can scare pretty much anyone with a glare. That or she'll just punch you in the eye. Unfortunately, she is rather irritable and can be easily set off or provoked by sometimes even the smallest things. The worse time to irritate or insult her is in the morning, as that is when she's most grumpy and least forgiving. Her temper is infamous, along with her tough exterior and rough, rather harsh attitude.

Aoife is ridiculously stubborn, so much so she'll ignore advice from others and go forward with her plans or do her own thing, which sometimes isn't the best idea. However, she'll refuse to accept her mistakes, and can end up causing tensions or bad feelings between others due to her lack of open-mindedness. She is a woman who clearly hates to be proven wrong. Appearing to be slightly stuck up at first, Aoife will always be ready to start an argument with anyone who tells her she's wrong or anyone who undermines her. She tends to enjoy getting into heated arguments with people over the smallest thing, and tends to use a foul, very unladylike mouth in those circumstances. Not that she cares about being ladylike; she believes that your gender should not define your personality. Anyone who makes any comment on how ladies should not be so brash is immediately disliked by her.

The Irish student has an incredibly prideful streak to her. Aoife maintains the idea that she should remain independent. A headstrong, tomboyish young girl, with a short fuse is the best way to describe her, really. She doesn't want or need to rely on anybody, in her opinion, and she is certainly a woman who is as tough as nails. The redhead remains full of pride, and won't let anybody put her down. Her opinion is important to her, and she won't let anybody change it easily.

Aoife is critical. A young woman with a foul mouth and sharp tongue, she is known for being strict and quite critical when anyone makes an error. People can be quite unnerved by what she says or the way she says it. Sometimes, she can be far too harsh, and so can easily make quite a few enemies (or just upset people badly). Tending not to think before she speaks, Aoife's attitude can be rather un-likeable and bitter. However, this is really just a side effect of how incredibly dedicated she is to her cause. If she starts something, she won't stop until the job is done. Aoife's dedication should either be highly respected or greatly feared. She will not back down, no matter what the task or how hard it may be.

In short, Aoife is a character with quite a few different sides to her. All of these mix up and make the teenager who is Miss O'Neill. And this firey redhead will certainly be causing a storm at Asher.




`ACTING ON YOUR BEST BEHAVIOUR, TURN YOUR BACK ON MOTHER NATURE!
Mm, Aoife really loved it when she got the day off. It was a rare incidence, yes, but it was always worth it after weeks and weeks of waiting when finally, that break that was so desperately desired became available. Before now, it was most likely that Aoife would have spent the day by herself, enjoying a little peace and quiet in her small apartment and just wasting the hours blissfully. But… she was soon coming to realise that company during the day off was much more enjoyable than any previous breaks she had from work. Who would have ever thought she'd be spending her time with Vash Zwingli, of all people?
And it was… nice. Turns out, he wasn't as uptight as she'd always thought he was. There was certainly a romantic side to him, hidden underneath that rather grumpy demeanour of his. The chocolates seemed to have certified that for her today. A little bit of sugar, a little bit of laughter, and the next thing, the two were making themselves comfortable on the couch. It certainly made a well-received change from deliberately avoiding each other in the office. Just to make sure certain Kirklands didn't suspect anything.
She wasn't going to waste her thoughts on her brothers at the moment, though.
His hair was soft, tickling her fingertips as she moved her hands through his golden locks. It was a pleasant sensation. Pulling herself in closer, the redhead wrapped her arms around Vash's neck, gently fiddling with the hair at the back of his head, and began planting small kisses all over his face. A few on his forehead that already seemed to be lined from all the frowning he tended to do (he really should try to lighten up a lot more), one small nip on his earlobe, a quick peck on the tip of his nose, a few chaste kisses lightly sprinkled on his brow. And she was smiling all the while. The last time Aoife had smiled this much when being in someone's embrace had been a long time ago, that was for sure.
Gently, her hands moved to cup the man's face as she leaned in slightly to close the gap between their lips…
…Which caused their noses to bump together rather awkwardly. Aoife paused, blinked, and quickly pulled away with a small laugh.
"Ah… sorry…" she apologised, before moving in once more to try again with less… collisions than the previous attempt. "Just try not to move too much, okay? Seems I'm a bit clumsy at this..." And with that said and done, the space between was finally closed.
Now wouldn't it be awkward if someone was to walk in on them both now, hm?
-
TND
`EVERYBODY WANTS TO RULE THE WORLD!
YOUR NAME/NICKNAME Amy
AGE 17

-----------------------------------
I am Aoife O'Neill and I am a HERO!