Post by KIKU HONDA on May 29, 2014 10:02:41 GMT -5
`KIKU HONDA!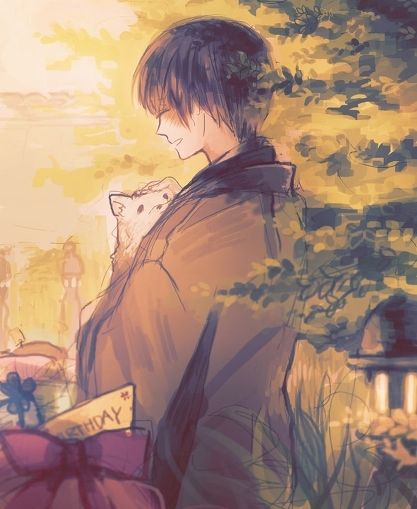 `WELCOME TO YOUR LIFE, THERE'S NO TURNING BACK!

FULL NAME Kiku Honda
NICKNAMES None that he's aware of.
AGE 25
GENDER Male
ETHNICITY Japanese
TEACHER OR STUDENT Teacher
AREA This petite, tranquil teacher is in charge of a challenging strategical class that heroes and sidekicks in years 4 through 7 are allowed to take. One semester is spent studying techniques in the classroom, and the other is spent implementing them in high-end combat simulations. What makes it so difficult? The teacher has a weird way of honing in on each and every student's weakness. He focuses on duos separately, strengthening how well they work together and against others.
SPECIAL ABILITY(s)
Aura Sensory.
Kiku has the ability to see the emotions people feel through the colors that emanate around them. For example, light green shows a lively and focused state, while deep blue indicates a melancholy mood; blood red is often anger, gray is apathy, pink is affection, and so on. These auras pulse around the person's figure, either dull or bright depending on how strong the feeling is. Every person has a different personal aura, with different default colors. In some cases, when the feeling is felt physically, the color can spread until it stains parts of their skin (such as legs when fatigued, the chest when heartbroken, etc). Otherwise, it's like a translucent vapor that floats around them.

It's an uncontrollable power, meaning that he cannot manipulate or alter the emotions he sees. With effort, though, he can make it so that others see the auras along with him. The longest it's ever been able to last is 5 minutes, as the strenuous work of connecting with even one other conscience easily exhausts him.

HOW DID THEY FIGURE OUT?
In his case, there was never really anything to "figure out". For a good part of his life, Kiku had no idea that his ability was out of the ordinary. It had been there since birth, and never struck him as odd until he tried to talk with others about it. He would mention it casually in conversation, only to be met with confused looks. Anxious enough as it was, the young boy bit his tongue and changed the subject, and life moved on.

The turning point was some time around year five of school. A kind girl in his class whose colors usually stayed rosy and dim began to turn dark blue and black. As the days passed, her aura pulsed incessantly, enveloping her as though it were going to consume her. It was the first time Kiku had come into contact with something so strong, and it shocked him. But what was even more confusing was that no one around her payed it any attention. She still smiled when she talked with others, but the aura hadn't faded in the slightest. When he approached her friends to ask about it, none of them understood. He tried his hardest to explain the colors in detail, but they assumed he was playing some kind of prank on them and ignored him.

Eventually, his classmate broke down one day, and the secret that she'd been keeping came out - a close relative of hers had died. Responses of "I had no idea" and "She seemed fine" echoed around Kiku, and it finally dawned on him that whatever he was seeing was not normal.

`EVEN WHILE WE SLEEP. WE WILL FIND YOU,

CHARACTER NAME LIKES
+Combat. There's something enthralling about sparring against an opponent. It's always interested him, and what motivated him towards teaching it. Being able to defend yourself is important, and something he believes adolescents - especially ones with superpowers - should properly learn.

+Hard Work. There is no point in attaining something if you haven't earned it. He believes that if you're able to work, you should do so as best as you can.

+Cleaning. Tidying up revives his restless hands and allows him time to idly think. It isn't so much an enjoyment of the act as it is of the calming sensation it gives him.

+Animals. Especially dogs and rabbits. He's a sucker for cute and fluffy things. While Kiku is normally of an even temperament, let it be known that if an animal is present, the young man will immediately be focused on petting them and is not easily swayed from doing much else.

+Artwork. He's a lover of all styles, from Renaissance realism to cartoon animation. Painting is a decent hobby of his; he prefers using watercolor or ink.

CHARACTER NAME DISLIKES
-Bright Colors. These are unavoidable on days when he's around people who very strongly feel an emotion, because their aura will vibrantly pulse around them. It's almost violent in how distracting it is, and it makes him wish sometimes that he didn't have to see it.

-Outdoors. The teacher feels much more at home inside, be it his own abode or the classroom. There are too many distractions and too many people out in the great wide open.

-Glasses. Plainly speaking, he isn't fond of the spectacles that he wears. He needs them to read, so he keeps them on hand while in the classroom, but usually takes them right off afterward.

-Extravagance. He does not favor people who are wasteful or gluttonous, and knows that he could never be that himself. Living a simple life may seem boring to some, but he'd prefer it over taking advantage of a luxurious one.

-Anger.Out of the wide spectrum of emotion that Kiku's been exposed to, he'd have to say that anger is by far the most destructive. It is basic, but can transform itself rapidly into complex and dark, powerful resolve. As a man whose balance derives itself from tranquility, he has difficulty connecting with angry and/or stubborn people.

FEARS
~Depression. He's seen what it does to people, and can confirm that it is frightening. Dark, cloudy blue hugs their muscles and mind, stretching around their body until its circumference exceeds them. Kiku pays special attention to these people and tries his best not to worsen their state. He hopes to never experience such a powerfully somber emotion.

~Heights. This is a well-kept secret, but Kiku is deathly afraid of heights. He avoids windows in high-story buildings and will absolutely refuse to get on an airplane.

~Bugs. Something about the way they skitter sends a shiver up his spine. He's especially unnerved by cockroaches.

QUIRKS
*Though he is in generally good physical condition, Kiku has mild back pains that sometimes get in the way of his teaching. He does calisthenics to ease the discomfort, but it isn't always effective. His bones make audible cracks when he stretches.

*Born and raised in Japan, the young man didn't move to a primarily English-speaking country until after he became an adult. Because of this, he is much better at speaking Japanese than he is at English, and has an unavoidable accent when he talks.


OVERALL PERSONALITY
+Calm. He's never been an obnoxious or energetic person, not even as a child. Hating with strong passion simply isn't in his blood, and anger is a rare sight. He's not particularly spontaneous, brash, or out of line. Kiku has a tranquil manner regularly about him, a quiet presence that makes it seem like he always knows what he's doing. Even in the face of danger, animosity, and impoliteness, he can keep up a solid poker face.

-Secretive. Everyone is entitled to their own privacy, and he does his best to respect this. Even so, Kiku can be a little too reticent. There are many things about himself that he keeps in the dark: personal matters and even his ability, for example. Not necessarily because he's ashamed of them, but because he has difficulty opening up to people. He's a bit embarrassed to talk about what makes him stand out, as it would be cause for further elaboration and unwanted questioning. If he isn't asked about it, he doesn't talk about it.

+Intuitive. Thanks to Kiku's ability, this characteristic comes easily to him. He's quick to understand the feelings of people around them, and uses this information to help improve their day-to-day life. As time goes on, he can see what makes someone happy or sad, and knows when to either bring up or avoid a subject around them. While he could easily take advantage of these powers, he opts to instead make himself more of a pleasant company for his acquaintances. There's only been a few or so cases in which he's used the information to make a person feel worse, and it's only ever caused him relentless guilt afterward.

-Reprimanding. This tends to apply to self-infliction rather than snapping at those around him. While Kiku doesn't especially enjoy mediocrity from any person's works, it's that of his own which he simply cannot stand. He is determined to keep a successful class, and can be a little too hard on himself to make this happen. Quick to chastise himself, he latches onto flaws that root themselves in his confidence. He's been known to slap himself in order to stay focused, which shows that he's willing to use extreme measures in order to move forward.

+Polite. Sometimes stiflingly so. Ingrained in his mind since infancy, Kiku learned to always be kind towards others and disguise negative emotions while in public. He often states that he agrees with another, even if it isn't the case, so that the least amount of trouble is caused. If he doesn't want to keep a person's company, he'll beat around the bush and make all sorts of viable excuses in order to get out of the situation. He expresses discomfort with apologies and tolerates obnoxious behavior from others with a smile. It may be dishonest, but he's well aware that sugarcoating the truth to others gets a person farther in life than blunt, negative actions. Even in solitude, he rarely spouts profanities, finding them unnecessary in getting his feelings across.

-Apathetic. For a man whose ability revolves around emotion, he often times appears to lack it. This isn't always the case, but there are some days when the feelings of others are just too strong for him to feel anything but numb to them. He'll act robotically, only speaking when spoken to and staying out of peoples' way as much as he can. It's a resentful kind of withdrawal, spiraling down to the fact that he is constantly aware of the emotions of everyone around him - except for himself.




`ACTING ON YOUR BEST BEHAVIOR, TURN YOUR BACK ON MOTHER NATURE!
Flat tires.
Just one of the world's simple pleasures, weren't they?

And here he had been fully prepared to keep up his steady routine and bike from class to the apartment, but luck certainly didn't seem to be in Kiku's favor. It was his second year of college, and life had fallen into an exhaustive pattern; work, school, computer, food, sleep. The only exercise he routinely got was from being rushed around at his job as a waiter and biking to get where he needed to go. It was tiresome, but it was life.
Though he could admit to himself that it seemed more like attempts at survival than it did living.

The sun of late afternoon shone dimly, casting weak shadows that bathed and blended into pavement. He walked without rush, taking things slowly in order to preserve the energy needed to keep moving. On his back was a light school bag; under his arm, deflated circular rubber; and at his side was his trusty bicycle, propped up on the bottom wheel for easier transportation. He took the back roads and alleys from the college to home, where traffic jams were seldom and bustle nonexistent.

After about a mile or so of walking (and three more lying ahead), Kiku took a glance behind him. Surprisingly, not a single person was walking on the street, as far as his faulty eyes could see. With this rare public privacy, he gave himself a moment to set his things down and stretch his arms, joints popping as he did so. If he looked on the bright side of things, a light walk on his own felt fairly refreshing. Sitting all day didn't do his body justice, anyhow. Once he cracked an eye open, though, he realized that he wasn't entirely alone. On the bench just a few yards ahead sat a woman, tapping her foot underneath the bus stop sign. Her hair obscured her face - long and dark, flowing down from her head as she stared at her lap.

He had a vague notion with each passing step that, despite such a large city proving a slim chance, he knew who the person was. The passing glow of early evening fed his doubts, and Kiku found himself needing to squint in order to see better. As he got closer, he noticed a bag by her feet - the same one that she always had hiked over her shoulder when she waved hello to him on her way back from school.

His eyes widened, and for a moment, his feet ceased to move.
What was she doing out so late? And all by herself, at that. Something had to be wrong, but was it really his place to step in and find out?

It wasn't. They were only co-workers, acquaintances. They shared a smile and a joke now and then, but had never had a conversation larger than simple small talk.
Still...he knew he wouldn't be able to simply walk by without some reassurance.

With a light sigh, followed by a sharp inhale, Kiku finally picked up his feet and walked forward, keeping as calm as he possibly could. Step by step, gravel rushed past his feet until he was close enough to call forward.

"Miss Wa-" He swallowed the surname, remembering that she didn't take kindly to being reminded of who she was related to. With another tentative step forward, he quietly cleared his throat and spoke a little louder than before.
"-Mei? Excuse me, are you alright?"

With any luck, he would be mistaken.
`EVERYBODY WANTS TO RULE THE WORLD!

YOUR NAME/NICKNAME Call me Milk! Referring to me by character name is fine, too.
AGE I AM THE DANCING QUEEN, YOUNG AND SWEET, ONLY--

-----------------------------------
I am Kiku Honda and I am a TEACHER!