Post by ANA MARÍA CAMPOS HERNÁNDEZ on May 26, 2014 11:48:39 GMT -5
`ANA MARÍA CAMPOS HERNÁNDEZ!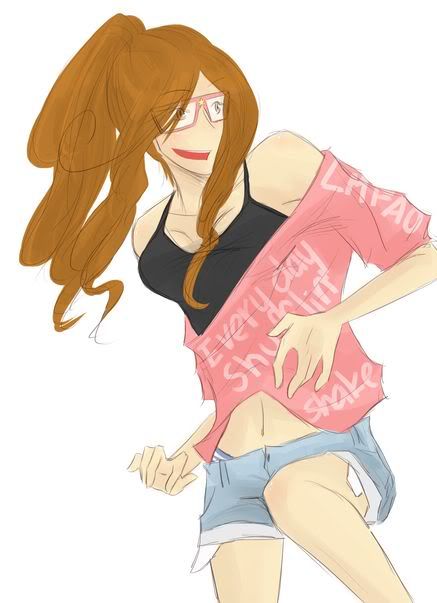 `WELCOME TO YOUR LIFE, THERE'S NO TURNING BACK!

FULL NAME Ana María Campos Hernández
NICKNAMES Annie
AGE Seventeen
GENDER Pink socks!
ETHNICITY Mexican
TEACHER OR STUDENT Student.
GRADE Sixth year!
SPECIAL ABILITY(s) Darkness Manipulation.
Ana María can create, control, manipulate, materialize and summon darkness in various ways, often by accessing a dimension of dark energy and the beings that exist there. But her powers lack a filter, which means they do not reach a limit in which she can fully control it. Whenever she uses her powers, she has to start with a small amount, otherwise the intensity of such would overwhelm her and she can easily fall into a dark state of mind.

She's stronger at night, when darkness is pure and it is not limited by natural light. The darkness within her own thoughts is what reigns over the rest of her abilities. She can never fully move on from her troubles, because otherwise her powers would feed on her physical energy and she does not posses the physical strength to stand it.

Her abilities include the absorption of shadows and merging them into a person's body, mind and soul, often being able to control and therefore "personify" or "solidify" the darkness within, but not the person itself. Intangibility by turning her own body into darkness or shadows. She can darken an opponent's surroundings, travel through shadows, become invisible when merging herself with a shadow (with darkness as a force field), and blast balls of darkness onto her opponents.
At this point, she can still access her humanity, but extended exposure causes her to become darkness itself, which means the absence of a being. Her blood slowly starts to turn into black mist, deactivating from its main functions. If this occurs her body becomes temporarily neutralized.

Natural night vision, but her eyes are extremely delicate to the light, and therefore she uses contact lenses to see and protect them.
She "feeds" from a person's fears and secrets, but she can only access those that she knows of and for a limited amount of time. Extreme precautions have to be made so that she doesn't lose herself in someone else's fears and fail to distinguish they are not her own. If a person realizes she is "invading" their mind they can easily shut her out. In order for this process to take place, the person needs to be unconscious or relatively distracted.

Since darkness by definition means the absence of light, she can shatter the light out of any object (e.g: blind people). When blinding them she has to stare into her opponents eyes and penetrate them with a thick coat of darkness that shatters the light away. The person will become blind until she removes it voluntarily. Results can become permanent.

HOW DID THEY FIGURE OUT? Ana María was four years old when her mother passed away. Although she had been sick for a while now, the little baby girl hardly knew what was going on. When her mother became bed bound, Ana María would cuddle next to her every night and sleep by her side, for she refused to sleep by herself. Even throughout the state of uncertainty, her mother would always put on a smile for her and assure her that everything would be okay. Until one fateful night, when Ana María's father refused to let her into her mother's room. When she learned that her mother had died, the small four year-old locked herself in the basement and hidden underneath the stairs, where there was absolutely no light at all, that's where she found comfort.

Ana María spent two whole days underneath the staircase, while her father frantically looked for her everywhere. By this time, Ana María had discovered that she could see in the dark and it was almost as if the shadows sheltered her and respected her. When her father finally found her and turned on the light, he was amazed by the small twirls of black mist that Ana María created with her hands. As she grew older, Ana María began to become more away of the extent of her powers and how this affected her. The basement still remains as her favorite place. A safe haven.

`EVEN WHILE WE SLEEP. WE WILL FIND YOU,

ANA MARÍA LIKES
~Tacos!
Yes, Ana María is very fond of tortillas and she likes her meals to be very specific. Although you can make a taco out of pretty much anything, simply folding a tortilla does not make it one.
~Doing shots of Tequila.
Tequila! That fine beverage made from the blue agave plant found in the state of Jalisco is this girl's absolute favorite. It isn't a party until she brings it.
~Parties!
How can I tell you that she loves to celebrate. She will always find a reason to hit those Mariachis and bring the party wherever she goes.
~Celebrating Death.
As one of her country's oldest traditions, on November 1st and 2nd, it is accustomed to pray for ones who have died. It is also nice to honor them with an ofrenda, or else they could get mad.
~Dangerously spicy food.
Chiles! Chiles! Chiles! It doesn't matter what Antonio says, Chiles! are absolutely the best thing ever invented. From the Chile de Árbol to the Chile Poblano. They are all a delight.
~Independence.
Ana María loves her freedom and ability to do whatever she wants, so be careful not to stand in her way.
~Soccer!
Well, it's a latin family tradition. It's not just about kicking a ball, it's about the sport, the companionship, being able to kick the other team back home!
~Sleeping.
What can I say? Eight hours a day just isn't enough.
~Mexican Pink.
A shade of pink very used in mexican designs and folk arts including dresses, toys, paintings, even for painting houses.
~Ghost Stories.
La Llorona, la Planchada, the Vanishing hitchhiker, she loves making up stories to scare others.
~Alebrijes.
Mexican folk art sculptures of fantastical creatures. It is said Pedro Linares had a dream of them when he was sick in the 1930s and began making them of paper mache.
~Art.
Now who doesn't like a masterpiece by Frida Kahlo or Diego Rivera? Ooh, and Alebrijes! Those little creatures are so colorful and shiny.
~Flowers
Her land is not only cactus, there are pretty flowers like Dahlia and Agaves (personal favorite).
~Ocean.
Not only does Mexico have the prettiest of beaches, there is also no other sea in the world that has so many beautiful colors like the Caribbean Sea!
~Power.
She loves to have control. There is nothing wrong with charming people into doing what she wants, right?
~Being the host.
It is almost mandatory. She enjoys having people over and entertaining them. Mainly showing off her glorious country.
~History.
Mostly about Mexico, but World History is also fun. Although it has to be something that she's interested in, otherwise she gets bored easily.
~Math.
Yes, shocker. It is just something she's naturally good at and doesn't have to put a lot of effort into.
~Languages.
She has a natural ability to learn other languages. She is fluent in various indigenous languages as well as some European. Mostly she learns for fun.

ANA MARÍA DISLIKES
~Cold weather.
No, no, no! Ugh! She lives in a dessert for a reason, people!
~People taking her for granted.
She tends to hold on to many grudges, you know?
~Silence.
Please people! Be loud! God invented vocal chords for a reason!
~Seriousness.
Which would be linked with sleeping through what you say, it's your choice.
~Being dependent on others.
Yeah, she absolutely hates having to ask for help. She rather fix things on her own, even if she's head over heels buried in the snow.
~Boredoom.
Blah, blah, blah... oooh! Shiny!
~Diminishing her.
She will not, under any reason tolerate people making her feel less. Nor does she like comments like "little one" or "poor baby". She'll hit you square in the face.
~Fake Tacos.
No, no, no! You cannot just fold a tortilla and claim it is a taco! God no! It is an art.
~Money problems.
Having to worry about money simply depresses her. She feels like she can't do anything.
~Getting yelled at.
She absolutely hates, with every ounce of her being, getting yelled at. She can't stand it. Especially if it's for something she didn't do. It puts her in a really bad mood and can even make her react aggressively.
~Lack of self-control.
She is vulnerable to distractions and therefore she can't concentrate. This frustrates her the most, because she is unable to fully control her powers and therefore she is extremely afraid something irreversible will happen.
~People messing with her friends.
Messing with the familia is a no, no. Because she will get her revenge.
~Machismo.
Yeah, she knows, men came first and all that, but really, men aren't that different from women and being a man does not mean you have the authority to do as you please and treat women as inferiors.
~Punctuality.
She'll take that as a suggestion, thank you very much.
~Betrayal.
She can't understand why people can't just stick to their loyalty. It's really annoying to have to watch your back constantly. If you're going to stab someone in the back don't become their friend in the first place.
~Nosy people.
Seriously, she doesn't mess with your private life so why mess with hers? She considers it as a huge disrespect.

FEARS
~Abandonment.
Ana María grew up without her mother, and the absence of that kind of unconditional love leaves a mark. She fears that those to whom she gets close to will abandon her. She needs the ultimate reassurance that she is safe.
~Darkness.
It is not that she is scared of darkness, but she is scared of losing herself within her own powers. Due to the fact she can't half as control her abilities, she knows that if she overdoes it, she may end up killing herself and everyone along.
~Hurt.
Because of her openness, she is vulnerable to getting hurt. She does not deal with it, she just keeps it bottled inside and that hurt haunts her heart and her soul. By definition, a direct source of her powers.
~Losing.
It's not just being defeated, it's the whole term of the word. It is being deprived from everything familiar and safe. Unable to find what she's looking for.
~Balloons.
No, I'm not kidding and yes the ones that are used in children's birthday parties. Ana María utterly hates the sound the make when they pop. They remind her of gunshots, and if you've ever heard a gunshot, you'll know it's not a pleasing sound to hear. Even watching others inflate them makes her cringe, and hide far far away.
~Spiders. She can't even see them without screaming. It is the one insect, or arachnid whatever, that makes her squeal like a little girl. They are nasty creatures that should really just stop existing. She'll probably never talk to you if you purposely show her one.
~Bicycles.
Okay, so maybe not the bikes per se but she's never learned how to ride a bike. She is afraid that if she rides one she might fall down and hurt herself. Those things have nothing to make them stand. This is probably the last thing she'll admit, as everyone knows how to ride a bike. You don't see seventeen year olds using training wheels, now do you?

QUIRKS
~Spanish.
She tends to mix Spanish words into her English. She really can't help it because it comes so naturally to her. She also tends to be oblivious to the fact that most people don't understand her.
~Contact Lenses.
Ana María can't wear glasses mainly for one reason. Instead of helping her see, they reflect the light so that it directly harm her eyes.
~Small attention span.
It's not that she's dumb, nor is it that she doesn't care, she can't help it really if she's distracted. It's just something she has so learn to live with it.
~Trouble relinquishing control.
She often finds it hard to admit that other people might make a meaningful contribution to any conversation or activity.
~Spontaneity.
She gives a new meaning to "in the spur of the moment". She lacks organization skills so she does things just for the hell of it, without caring much for the consequences.

OVERALL PERSONALITY
At first glance, Ana María gives off an air of tranquility and peace, the sort of person that walks by without a care in the world remotely figuring it all out as she goes along. However, when in interaction, you will find that there is not much tranquility in her life. She is constantly in motion, having a difficulty to sit still for a prolonged period of time. She enjoys living life in the fast lane, and mostly doing things in the spur of the moment, failing to fully understand the consequences and repercussions of her actions.
She is chatty and loud, and enjoys making her points known. She likes to strive the attention of others and possesses natural charisma.
Ana María is characterized by her emotional depth. She has such vast reservoir of optimism that she doesn't come to realize her influence on others. She possesses the ability to express true human emotions (anger, love, happiness, sadness) often making her vulnerable to getting hurt. Passion runs through, which causes her to fall very easily and quickly in love, often making the same mistakes. Her kind and gentle side sprouts from this very passion.

Ana María is independent. Although clingy, she profoundly dislikes being told what to do and is reluctant to ask for help. Her tenacity borders the limit of stubbornness and there is no force that will change her mind. It is rare that she minds other people's business, for when in arguments she will most likely always hold a neutral position. As a result, she expects the same treatment as well and hates when others intrude in her personal life as though it is theirs to fix.

She is quite deceptive, never openly admitting she's a liar. She believes that what she does is for everyone's good, regardless of the methods used to achieve it. She also uses her charm to get out of any situation. You can describe her as being a two-faced person. Saying one thing when it's clear she means another. Her thoughts are a mystery, and although she tends to be open about her feelings, she has yet to show her true colors.
When she's drunk, she says what she thinks and in that honesty, she fails to realize that she can often be mean or just plain cruel. Most often tan not she will find a way to twist the truth so that it directly benefits her.

Ana María has a nasty temper. She can be very patient and tolerant, but when pushed over the edge she is a force to be reckoned with and there is no hesitation in using violence. Her loyalty is remarkable and helps does who need it, even when she can barely help herself. Family is a word with deep meaning to her. She believes it's the strongest of bonds that can unite a human being. For which she enjoys spending time with her friends.
Note that Ana María is not the best to deal with betrayal. Even when she's a person that can stand almost anything thrown at her, she's surprisingly resentful. It is unknown just when and under what circumstances she can hold a grudge.

She has a love for the history and culture. She enjoys learning about the ancient civilizations that once dominated her home country. Ana María loves to party and celebrate. The traditions she grew up with are sacred and she likes to share them with those who are unfamiliar to them. Día de los Muertos (Day of the Dead) being one of her favorite. She holds dear respect for the concept of Death (La Catrina)
This girl is a hard worker, when she wants to, but her inefficiency and tendency to waste time affect her academic potential. She has a hard time concentrating and can appear to be incredibly lazy, settling for mediocre work. It is rare that she worries about school or her grades.

Ana María is also noted for her hospitality. Being well mannered is a sign of position and honor. She believes being educated is being gracious and gentle. It has nothing to do with an academic education. When someone visits her house, she likes to offer food and drinks and ask about their overall well been. It is a big tradition that can sometimes be considered mandatory. As a result, when she visits others she will most likely do so without notice or invitation, as like anyone else would do to her.
Punctuality is not a Latin trait and she's no exception, in fact she's even more susceptible to tardiness than the others. It seems more like a suggestion. This girl has a talent for getting into trouble. She can't help it, it's just something she does. (Like waking up two hours late for first period and then doodling in class).

Ana María knows how to deal with her public, telling them what they want to hear. When she's serious about something that something is a serious matter. People don't ignore her when she decides something is not to be ignored. Ana María posses a way to get people to do what she wants. She's a passive manipulator, sometimes without realizing it.
The girl is not fond about talking about her life and hates it when people claim she uses her humor to hide her low self-esteem. She doesn't have to, because she is not insecure. In fact, when you get to know her, you will find she is quite arrogant.
She does, however, use her humor to keep people at a distance. The girl is not fond about talking about her life. She's not the sort of person who enjoys the spotlight into her every secret. She hates feeling vulnerable, and can't stand showing weakness. It is rare she cries in front of anyone, and if she does it is because she trusts and values that person deeply. When she gets hurt, she turns into this armor of steel and she will not let anyone near her heart. She tends to push people away.

Her one obscure secret, the one she won't admit, is that she may suffer from a derivation of ADHD (attention deficit hyperactive disorder). Well, at least that's what the "doctors" claim, but there is still the proof to prove them right.

Overall, she'll always have her trademark grin, even so when the situation gets insanely brutal. She laughs because that's how she deals with everything. Ana María holds on to a childish behavior but her maturity varies with what the situation demands. This easy-going girl can reach a point in being extrovert that she can't help but joke around with funny remarks to save her life. Talking is in her nature.




`ACTING ON YOUR BEST BEHAVIOR, TURN YOUR BACK ON MOTHER NATURE!
"¡Mierda! ¡Mierda! ¡Mierda!" Ana María kept repeating all kinds of spanish course words as she ran through the hallways to get to her next class. She was late, as usual, but this time it wasn't her fault. She actually had a pretty valid excuse. The teacher from her previous class had asked to have a word at the end of the period and time just went by. Not that anyone would believe her. So rude.
That day she had attended every single one of her classes. Why? She had no idea. Maybe because she had woken up with the need to be productive and achieve her life goals. Pfft. Yeah right. She had attended all her classes because her teachers had threatened to flunk her in every single one of them if she so much as arrived a second late to class. Such a nice motivational speech. It wasn't all her fault. They could always make their classes a little less boring. Just a little. She wasn't asking for much. One can only dream.

A skirt wasn't the most comfortable piece of clothing to wear when one is gliding through the corridors praying to God to not be caught by someone who would make her absence much more noticeable. Normally Ana María wouldn't even bother to run if she knew she was already late. A few minutes weren't going to make the time to back and have her arrive on time. Either way she was going to get a nasty look or a scornful speech. Plus unnecessary sweating was such a bummer, especially when she had woken up extra early to do her hair right. Tame it a little, making it look as pretty as possible. Because sometimes a girl needs to feel like a girl.

Ana María wasn't even sure what she class she had at the moment. She had never learned her schedule, she just followed the routine of every day and somehow ended up in the right classroom. The girl prayed that for some unknown mythological reason, the class had started late and she could smoothly make her way inside without her previous absence being known. Yeah right. It's her luck we are talking about. Some times, when Ana María was resting in bed at the end of a long day, she thought about why she hadn't simply travelled through the shadows. It was much easier and faster than running. But the shadows had to be on a meaningful size, and with the sun glowing through the hallways, there wasn't much she could do with them.

Sighing, Ana María finally made her way into the classroom. She opened the door just to get the oh so adorable glare from the professor. There was always the one teacher who thought of his students as nothing more than spoiled brats who got everything handed to them in a silver platter. Such stereotypes. If the teacher knew even a glimpse of the lives of his students, what they went through and the such, he wouldn't be so judgmental. It's amazing how oblivious we are to what people around us are feeling.

Nodding, she made her way to her seat. The teacher had started writing some stuff on the board that Ana María had no idea what they meant. She had missed the opening statement, oh lovely. The girl looked around for any familiar face and smiled when she saw someone just a few seats away from her. She took out a piece of paper and gently tore the edge of it. With a pen, or what was left of it really, she wrote a nice note.

Hey Mathias! Do you have any idea what is going on?

She folded the note four times almost perfectly and draw the outline of a letter envelope that had the Dane's name on it. Such a nice touch, if she might add. Ana María turned to look at her friend and motioned for the person next to her to pass the letter along. Of course she could've sent a text or something, but what was the fun in that? Besides, if we were talking about her luck, Mathias could've might as well have his phone blasting on full volume. Now that would've not been pretty.
`EVERYBODY WANTS TO RULE THE WORLD!

YOUR NAME/NICKNAME Mexi
AGE Shh, it's a secret... 19

-----------------------------------
I am Ana María Campos Hernández and I am a HERO!